TAKEAWAYS
1. Tasca d'Almerita winery's Nozze D'oro wine was established in 1984 in Sicily, Italy
2. The 2020 edition of the Nozze D'oro white wine has won an award for its packaging design
3. The innovative design recreates the historic love story with different embellishments and foils
4. UPM Raflatac FLEUR DE COTON WHITE WSA label material was used for the window sashes and UPM Raflatac ROUGH COTTON WHITE WSA was used for the label itself
Nozze D'oro is one of the best-known white wines of the Italian Tasca d'Almerita winery. It was first created in 1984 by Count Giuseppe Tasca d'Almerita who wanted to make a wine for his wife, Countess Franca, to celebrate their 50 years of marriage – the Golden Anniversary. The wine label represents the great bond that the Count has with his two loves, his wife and the estate.
Tasca d'Almerita winery consists of five different estates in Sicily – Regaleali, Capofaro, Tascante, Whitaker and Sallier de La Tour – each with their own unique characteristics. Nozze D'oro wine comes from the Regaleali estate and is a combination of Inzolia and Sauvignon Tasca grapes. The two vineyards are positioned to face each other and are said to represent the Count (Sauvignon Tasca) and the Countess (Inzolia).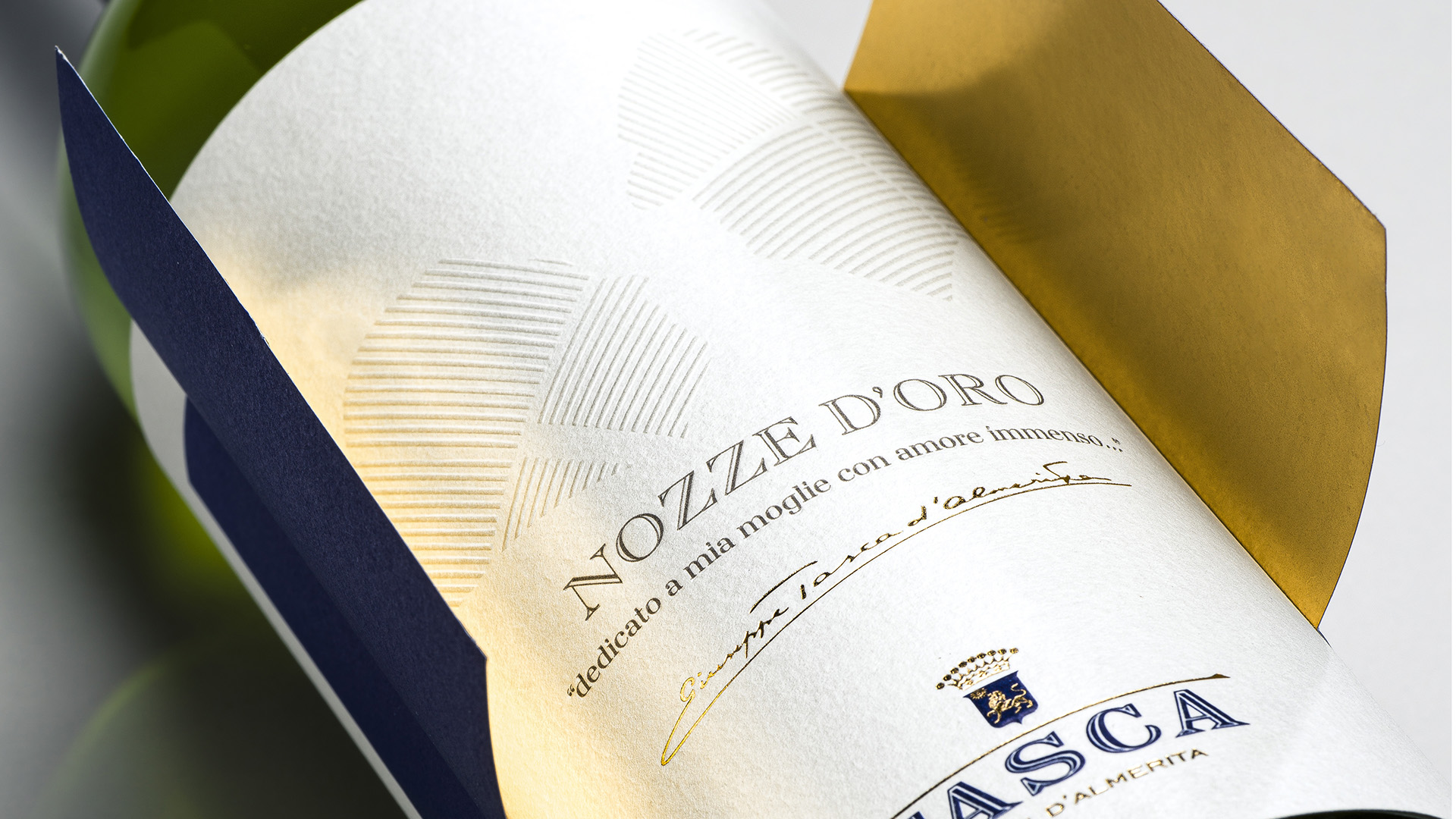 Nozze D'oro which translates to "golden anniversary" is dedicated to Count Giuseppe's wife
Recreating the history with wine label design
When recreating the label, Luxoro wanted to find a way to tell the historic love story through design.
The mastermind behind the look, Art Director Mario Di Paolo from Spazio Di Paolo agency, started the process by creating two closed sashes for the bottle's label with UPM Raflatac FLEUR DE COTON WHITE WSA label material.
Opening the blue window sashes represents entering the Regaleali estate. This architectural structure mimics the estate building's actual window sashes. Once opened, the cold-printed gold on the backside creates a reflection of light on the white paper label.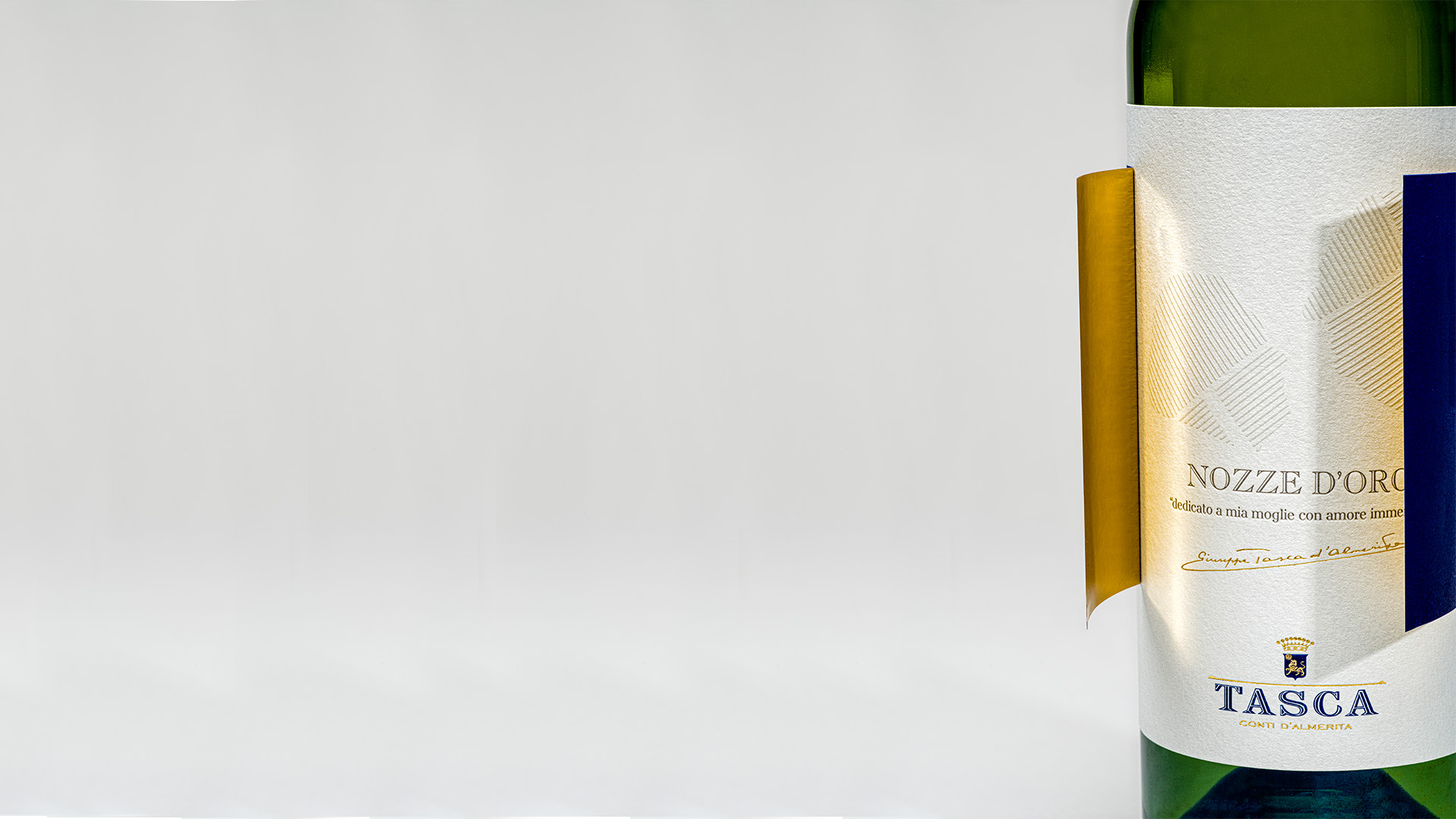 The label itself is UPM Raflatac ROUGH COTTON WHITE WSA label material. It portrays an image of two profiles facing each other made with hot foil embellishment. The profiles represent the two vineyards – the Count and the Countess.
Finally, in the foreground of the label in low relief, is the name of the wine and the Count's dedication to his wife on the day of their Golden Anniversary. The family's signature is flat hot stamped below in gold.
The final award-winning design was the result of a great collaboration. With the impeccable printing experience of Industria Grafica Eurostampa, Luxoro was able to tell their whole story through hard work and flawless techniques.

Hot foil embellishment
Dry relief for the vineyards/profiles and the name of the winery
Low relief on the name of the wine and the dedication
Flat hot stamping on the family's signature and crest
Hot and Cold foil type: LUXOR® 220
CLICHÈ: Hinderer + mühlich