TAKEAWAYS
1. You can take positive climate action by choosing the right label material
2. RAFNXT+ label material helps mitigate climate change and harness the power of sustainably managed forests
3. By joining the RafCycle™ by UPM Raflatac recycling service you can turn your release liner waste into a resource
The demand for more sustainable products grows as consumers have become more aware of the environmental impacts of packaging. A label, although only a small part of the packaging, plays an important role when it comes to the overall packaging sustainability. It also often attracts the attention of consumers.
Label printer CORETi knows the importance of a good label choice and therefore advises its customers with suitable label materials and necessary finishes to complement their product labels.
The company, known for its strong passion for sustainability, proudly offers its customers labels that help them reach and go beyond their sustainability ambitions. RAFNXT+ is one of the label materials that CORETi sees especially suitable for open-minded and environmentally conscious customers.
Sustainability benefits through smart choices
RAFNXT+ offers companies an opportunity to take positive climate action through a smarter choice and use of materials. It is the world's first label material verified by the Carbon Trust to reduce carbon footprint and help mitigate climate change. In addition, the label materials are FSC™ certified (FSC-C012530).
"Our customers are looking for unique and sustainable materials for their labels, whether in the wine, oil, textile, or any other industry," tells Luís Fernandez Vilela, Director Xeral, CORETi. "When discussing with them, we try to explain that reducing carbon footprint is important, and we always take this aspect into account when talking about the label material choices. RAFNXT+ label material is an excellent choice and helps our customers to reach their sustainability targets."
Overall, CORETi is pleased with all the sustainability benefits that the RAFNXT+ range offers. The company is in a constant search for such materials that would reduce the carbon footprint and generate positive climate action.
"We think that the RAFNXT+ range has not only one benefit but all. The use of it in industrial and high rotation applications means not only saving energy and water but also reducing converting times," Fernandez Vilela tells. "We have used RAFNXT+ label materials for a long time, and there has never been any issues in converting or dispensing," he continues.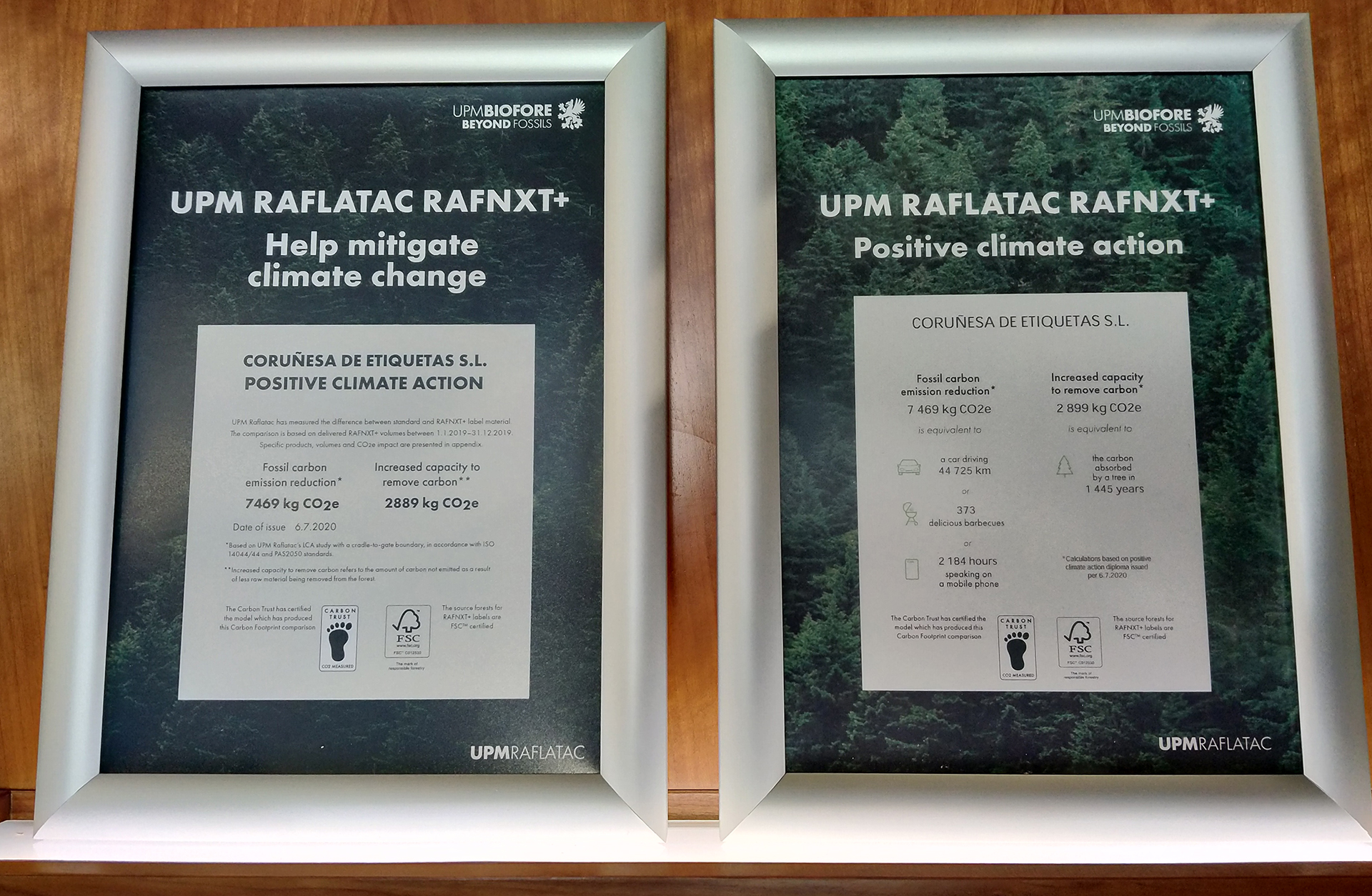 CORETi is the first Spanish company in the labeling sector to receive the Positive Climate Action diploma. The diploma shows that by switching from standard label material to RAFNXT+ in 2019, CORETi helped to reduce fossil carbon emission into the atmosphere by almost 7.5 tons and increased the capacity to remove carbon from the atmosphere by nearly 3 tons.
The collaboration started with the RafCycle recycling service
Already before taking RAFNXT+ labels into use, CORETi and UPM Raflatac have worked together towards a more sustainable future. CORETi joined the RafCycle in 2019 and has since recycled its label release liner through the service. In 2019, CORETi recycled 11,5 tons of liner waste and expects the number to grow to 46 tons in 2020.
"By taking part in the RafCycle program we have achieved one of our most desired targets: turning our label liner waste into a resource by separating and recycling it. RafCycle helps us in our way to reach the zero-waste objective," says Fernandez Vilela.
"UPM Raflatac has excellent professionals, always ready to help in our daily work, and in everything related to sustainability. This has made it easy to take part in the RafCycle program. We feel very connected to UPM Raflatac because of its innovative and sustainable mindset. In order to protect the environment, we all must work together to provide the consumers with sustainable solutions," Fernandez Vilela concludes.
Read more about Coreti's sustainability approach (in Spanish)