TAKEAWAYS
1. Thirsty Fox is the first of its kind premium small batch craft cider in the Indian market
2. It is the result of a truly global collaboration between the brand owner, designer, printer and UPM Raflatac
3. The bottle's label design conveys the elements of unique artisanal craftwork and sophisticated texture
Thirsty Fox, an all-natural premium craft cider produced by Trillium Beverages Private Limited, consists of two apple ciders, Izzy and Reed. Born from the ambition to launch a craft cider category in India, and to create a whole new product category differentiating from the wines and beers, it now aims to become a global brand in the future.
To achieve that, having a superior taste is not enough. The bottle must also stand out from the shelf.
Creating a distinctive look for a premium craft beverage
According to Akash Sahu, Chief Marketing Officer of Trillium Beverages, making the right decisions on a distinct bottle and label style was important when creating the product.
"For Thirsty Fox, we wanted a label design that would convey the super-premium credentials and the elements of craft and texture. A design that would help us set a whole new grammar for the category and underscore the values of a natural, easy-drinking and delicious product, "Sahu tells.
To turn Sahu's vision to life, Brand Consultant and Art Director Marco Loschiavo from EMME joined the project to bring this vision into reality. Loschiavo, together with his team of world-acclaimed designers, started by creating a botanical illustration for the labels. They drew inspiration from the concept of 'The Art of Nature'. An approach that was pioneered by the famous 17th-century Belgian painter and botanist, Pierre-Joseph Redouté. EMME also designed a logo featuring a fox to match the brand name.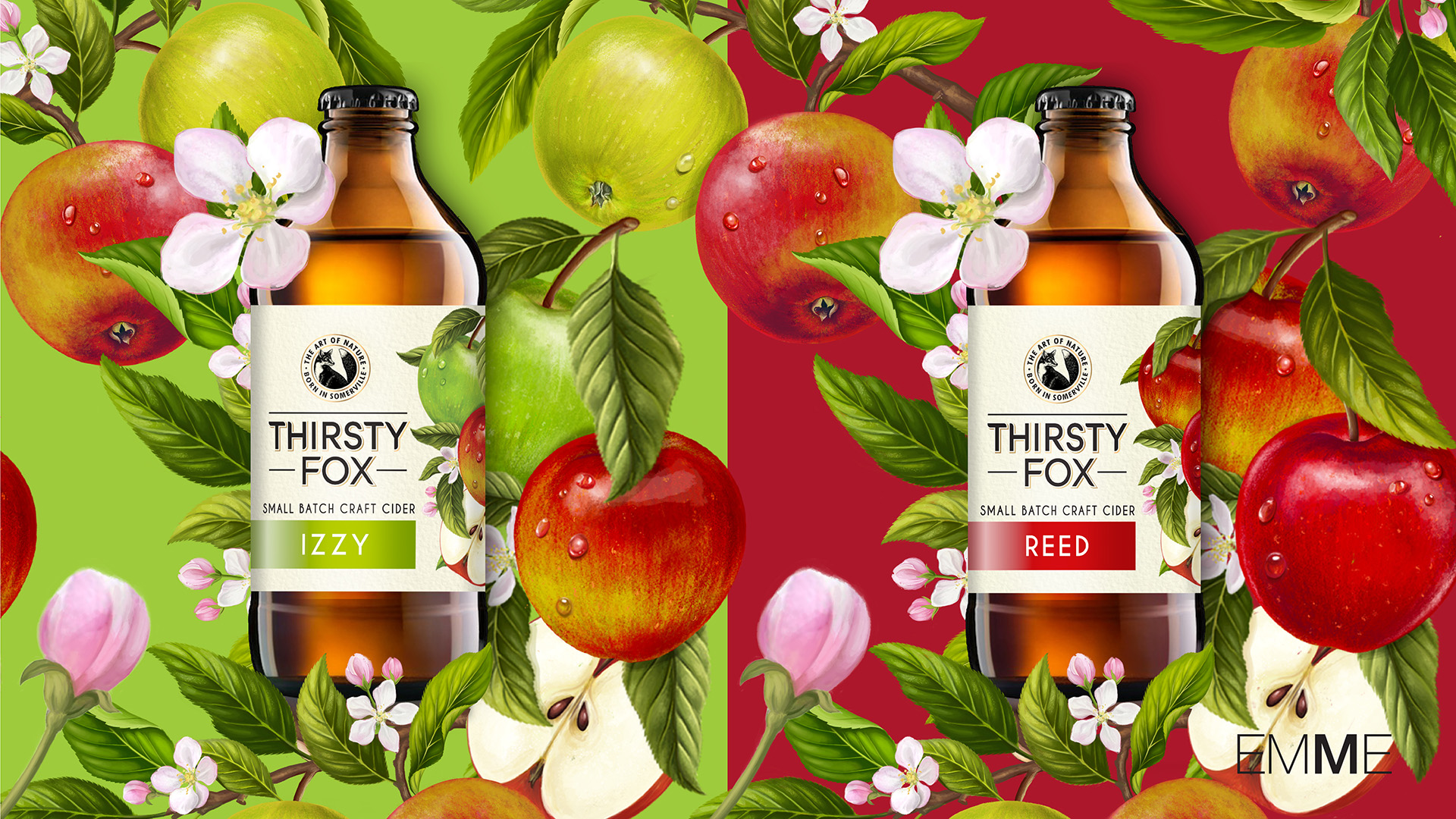 Completing the look with great collaboration
Once the design was ready, Loschiavo turned to UPM Raflatac to find the perfect label material to create the wanted look and feel. With the advice from Stefano Pistoni, Manager, Global Business Development, Wine, Spirits & Craft Beverages UPM Raflatac Fleur de Coton White WSA-FSC / RP30 / White Glassine 85 material was chosen.
This high performing, beautifully textured paper label now completes the look of Thirsty Fox craft ciders. The material is also FSC certified, an aspect that both Sahu and Loschiavo appreciate.
"Choosing an FSC certified paper was a notable choice driver for us, something we continue to acknowledge as our small contribution to responsible sourcing. We are grateful that Stefano helped us to find the perfect label for our needs. Not only did he share his expertise on the substrate, but he also helped with the creative process and connected us with the right partners to help us realize our dream," Sahu thanks.
Thirsty Fox has been warmly welcomed to the Indian market for its unique style and craft.
"People first drink with their eyes. Both our packaging and product have received positive validation from the consumers and the market. The packaging is loved, and it creates a distinguished personality for the brand and justifies the premium pricing and high standout on shelf," Sahu concludes.