Yet, once PS labels have been applied to packaging, brands are left with release liner waste, also referred to as label backing. This creates an opportunity for sustainably minded brands to direct this waste stream into new use, while advancing on their landfill reduction targets.

These dynamics were the key drivers behind our RafCycle™ by UPM Raflatac recycling service, which has been offered in North America, Europe and Asia Pacific for many years now. Via this service, we collect release liner waste from brands, and then our partners turn it into new materials.

In North America, release liner is typically landfilled. When it is recycled, it is often downcycled. This means it is turned into a lower-value product because the silicone and adhesive residue could cause contamination. But recently, thanks to our partner, Sustana, we've been able to recycle release liner waste and turn it into a high-value product.

Sustana is able to de-siliconize the collected release liner and recycles it into sustainable recycled fiber. Our other supply partners then turn this recycled fiber into new paper face material, which we use to create our UPM Raflatac LabelLoop™ products.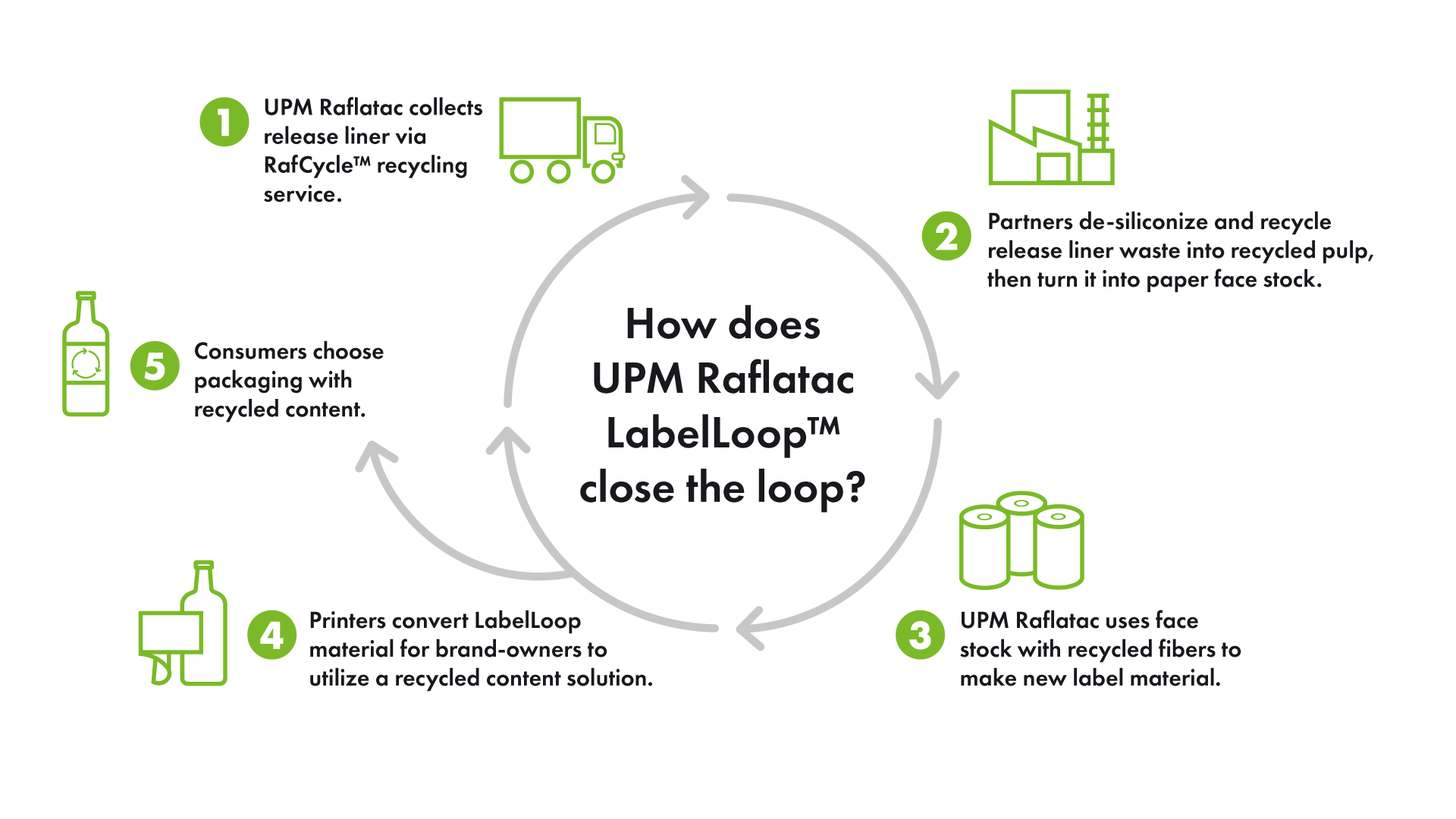 LabelLoop is the first semi-gloss label stock on the market with up to 30 percent post-consumer waste (PCW) that contains recycled release liner waste. In other words, we're keeping these materials within the packaging industry. It's truly the circular economy in action!

What's even more exciting is that we're now enabling brands to increase the use of recycled content in their packaging. We also offer LabelLoop PCW face with PCR PET liner, for a multi-layer sustainability impact.

Even though LabelLoop is created from recycled release liner, it still performs identically to paper labeling materials created from virgin pulp.

Funny story – the first time we received samples of the LabelLoop material, we actually misplaced them briefly in our lab because they look identical to virgin paper label stock. Of course, we were able to quickly sort out which was which, but it truly takes specialized equipment to make that distinction. That's how closely LabelLoop looks and performs when compared to the standard offering.

Where do we go from here? I'd say we're just at the beginning stages of finding out what we can do with recycling release liner and incorporating more recycled content into labeling solutions. We will continue to expand our RafCycle service and enable more brands to direct this waste stream into new use. Finally, we'll focus on collaborations with innovative partners, like Sustana, to uncover novel uses for recycled release liner. This is all part of our journey of labeling a smarter future beyond fossils.
UPM Raflatac LabelLoop™ solutions with post-consumer waste (PCW)