UPM Raflatac introduces a highly chemical resistant adhesive for wet wipe labeling in the APAC region. UPM Raflatac RRS4 adhesive pushes beyond traditional adhesives with repeatedly reliable open-closure functionality for high chemical resistance. RRS4 is designed to be resistant to 75 percent alcohol ensuring the disinfecting qualities of the wet wipes when reopening and closing the package.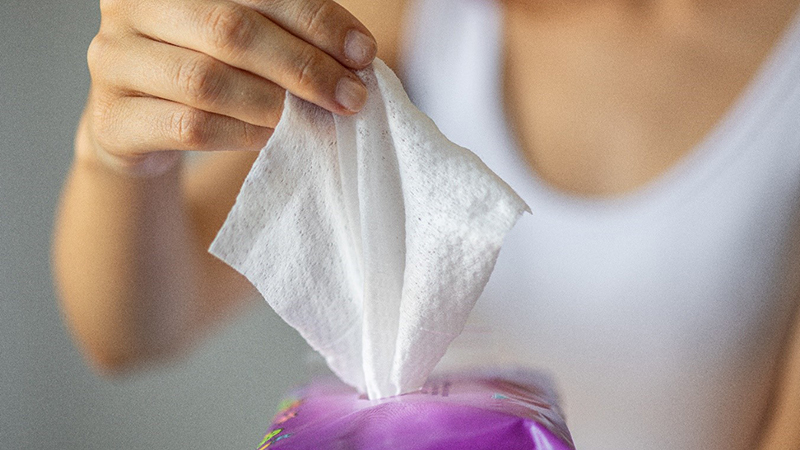 Having disposable disinfecting wipes on hand can help to stop the spread of the viruses. For the wipes to be disinfecting, they must contain at least 70 percent of alcohol according to C.D.C (Centers for Disease Control & Prevention). Therefore, the label needs to have chemical resistance to keep the wipes wet and disinfected. UPM Raflatac's RRS4 adhesive answers to this need and ensures the reliability of the packaging.
RRS4 adhesive is a part of UPM Raflatac's dedicated adhesive family which offers long-lasting open-closure functionality and support for high-quality visual branding.
UPM Raflatac RC12 provides high adhesion and is ideal for packages requiring a strong peel
UPM Raflatac RC13 gives a soft, noiseless opening and good resealing properties
UPM Raflatac RRS3 provides high chemical resistance
UPM Raflatac RRS4 provides high chemical resistance and 75 percent alcohol resistance
For further information please contact:
Patricia Quah, Segment Manager, Tyre, Pharma, Wet Wipes, Durable, OIC & Retail, South East Asia, UPM Raflatac, tel. +607 254 6051
Leo Jin, Business Segment Manager, Oceania, Specials SBU, UPM Raflatac, tel. +613 8772 7024
Caihai Gu, Segment Manager, Tyre, Wet Wipes & OIC, NOA, UPM Raflatac, tel. +86 21 64485655
UPM, Media Relations
Mon-Fri 9:00-16:00 EET
tel. +358 40 588 3284
media@upm.com
UPM Raflatac
UPM Raflatac is leading in sustainable labeling through our innovative self-adhesive label materials and services. We offer high-quality paper and film label stock for branding and promotion, informational labels, and labels with functionality. We operate a global network of factories, distribution terminals and sales offices. Our company employs around 3,000 people and made sales of EUR 1.6 billion (USD 1.8 billion) in 2019. UPM Raflatac is part of UPM. Find out how we are labeling a smarter future beyond fossils at www.upmraflatac.com.
Follow UPM Raflatac on Twitter | LinkedIn | Facebook | YouTube | Instagram
UPM
We deliver renewable and responsible solutions and innovate for a future beyond fossils across six business areas: UPM Biorefining, UPM Energy, UPM Raflatac, UPM Specialty Papers, UPM Communication Papers and UPM Plywood. As the industry leader in responsibility we are committed to the UN Business Ambition for 1.5°C and the science-based targets to mitigate climate change. We employ 18,700 people worldwide and our annual sales are approximately EUR 10.2 billion. Our shares are listed on Nasdaq Helsinki Ltd. UPM Biofore – Beyond fossils. www.upm.com
Follow UPM on Twitter | LinkedIn | Facebook | YouTube | Instagram | #UPM #biofore #beyondfossils