Finland's award-winning natural mineral water launches in the USA at the 19th annual Food Network & Cooking Channel South Beach Wine & Food Festival Presented by Capital One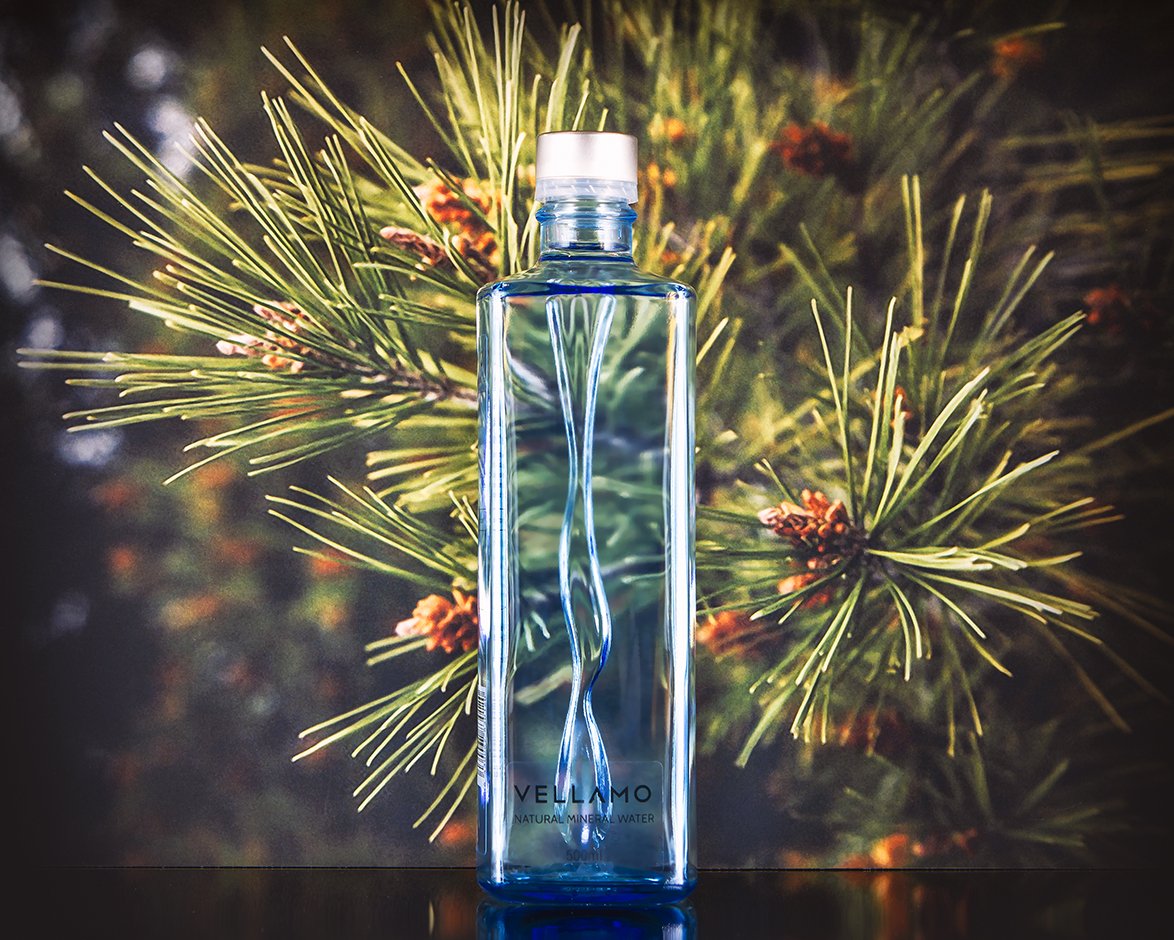 Vellamo, Finland's award-winning natural mineral water aims to make a big splash with its USA launch by partnering with global label stock producer, UPM Raflatac for an innovative sustainability initiative in the bottled water industry at the 19th annual Food Network & Cooking Channel South Beach Wine & Food Festival presented by Capital One (SOBEWFF®) from February 19-23, 2020 across Miami-Dade, Broward and Palm Beach counties. Vellamo's bottles will feature UPM Raflatac Forest Film TM , the world's first and only wood-based polypropylene plastic label material.
Vellamo is the official water partner of:
Fontainebleau Miami Beach presents Wine Spectator's Best of the Best sponsored by Capital One®
Wine & Cheese Happy Hour presented by Carr's Crackers sponsored by Wade Cellars hosted by Dwyane Wade at Nobu Pool at Eden Roc Miami Beach
Goya Foods' Swine & Wine hosted by Enrique Santos and Fernando Desa at Biltmore Hotel
"Vellamo is one of Mother Nature's perfect creations and we're excited to share how we've taken great measures to ensure our unique taste, purity and sustainability for the health of our customers and planet by achieving a neutral carbon footprint across production, packaging and logistics," said Petteri Ahonen, CEO, Ice Age Water Ltd.
The global market for bottled water is projected to reach US$307.6 billion by 2025. Mineral water is increasingly becoming the new vehicle for affordable nutrition with per capita consumption poised to increase with science-based evidence highlighting waters role in health and wellness.
With premium waters on the rise, manufacturers are focusing on new product launches and packaging innovation. (Global Industry Analysts, December 2019).
Vellamo adheres to strict European natural mineral water standards to maintain its official seal of approval and high-quality status of being naturally pure, unique in taste, bottled at the source, and containing no environmental pollution or added minerals or sweeteners.
"This is an ideal collaboration and event to showcase how labels matter when it comes to sustainable packaging," says Daryl Northcott, Director, Films Business, Americas, UPM Raflatac. "Our collaboration with Vellamo is an excellent example of how we are labeling a smarter future beyond fossils by working together to have the first bottled product in any industry featuring our innovative UPM Raflatac Forest Film™ label materials."
UPM Raflatac Forest Film™ is constructed from UPM BioVerno naphtha, a 100 percent wood-based solution originating from sustainably managed forests. It answers brand owners' needs to replace traditional fossil-based virgin materials with renewable ones. It offers companies like Vellamo an efficient and impactful way to reach beyond their sustainability goals without compromising on product performance.
The label also features UPM Raflatac's RafMore, an innovative smart label solution that allows festival attendees to scan the label unique to every Vellamo bottle and access real-time product lifecycle and carbon footprint data. To promote Vellamo's home delivery service, attendees can enter the 'Win Vellamo Water for One Year' Giveaway.
Vellamo Finland's only natural mineral water from the last Ice Age – 10,000 years ago, completely pure and unique in taste with perfectly balanced minerals, and containing no environmental pollution. Since launching in 2017, Vellamo has received international recognition for its taste and design: German Design Award 2020 Winner ; Red Dot Design Award 2019 Winner ; Fine Waters Design Award 2019 Gold ; and 2019 Innobev Taste Award. Pronounced 'vel-emo', its name originates from Finnish mythology – goddess spirit of water. A Global Water Study by UNESCO and World Water Council ranks: Finland #1 World's Best Drinking Water; and Vellamo #1 Finland's Cleanest & Purest Drinking Water.
In 2019, the Vellamo C02ZERO Sustainability Program was introduced to reduce CO2 in process and product lifecycle to zero. Vellamo is owned and operated by Ice Age Water Ltd. headquartered in Heinola, Finland. Vellamo is available for home, wholesale and retail delivery nationwide in the USA through AquaMaestro; The Drinks Company, and online at http://www.vellamo.com Click to download images Vellamo PR Images 2020
UPM Raflatac
UPM Raflatac is leading in sustainable labeling through our innovative self-adhesive label materials and services. We offer high-quality paper and film label stock for branding and promotion, informational labels, and labels with functionality. We operate a global network of factories, distribution terminals and sales offices. Our company employees around 3,000 people and made sales of EUR 1.6 billion (USD 1.8 billion) in 2019. UPM Raflatac is part of UPM. Find out how we are labeling a smarter future beyond fossils at www.upmraflatac.com. Click to download images of UPM Raflatac Forest Film™ - http://pet.upm.com/l/S-t8MbR2-BC7
About the Food Network & Cooking Channel South Beach Wine & Food Festival presented by Capital One
EAT. DRINK. EDUCATE. All proceeds from the Festival benefit the students of the Florida International University Chaplin School of Hospitality & Tourism Management who also assist Festival organizers with sponsorship fulfillment, restaurant and exhibitor recruitment, logistics, and inventory as well as working alongside some of the world's greatest celebrity chefs and winemakers. To date, SOBEWFF® has raised more than $30 million for the School. In September 2018, BizBash named the Festival the #1 Food & Restaurant Industry event in the United States for the sixth year in a row. The Food Network & Cooking Channel South Beach Wine & Food Festival presented by Capital One is produced by Florida International University and Southern Glazer's Wine & Spirits, with the support of the Miami Beach Visitors & Convention Authority and the Miami-Dade County Department of Cultural Affairs. For moreinformation about the Festival, visit sobewff.org or call 877-762-3933. For more information about Florida International University visit fiu.edu, for the Chaplin School of Hospitality & Tourism Management visit hospitality.fiu.edu and for more information about Southern Glazer's Wine & Spirits visit southernglazers.com.
Follow us on Instagram @sobewffest, Twitter @sobewff and Facebook @sobewff.
###
For more information, please contact:
Scott Sowers, Senior Communications Specialist, UPM Raflatac
Mon-Fri 8.00-15.00 ET tel. +1 828-275-7261 scott.sowers@upmraflatac.com
UPM, Media Relations
Mon-Fri 9:00-16:00 EET tel. +358 40 588 3284 media@upm.com
Vellamo, Media Relations, Mon-Fri 9:00-16:00 ET media@vellamo.com
Teemu Oksa, President, Vellamo North America +1-810-938-3000 teemu.oksa@vellamo.com