UPM Raflatac has announced BESTSELLER as the winner of the RafCycle Award at Labelexpo Europe 2019 in Brussels. The RafCycle Award is presented in recognition of excellence in recycling and environmental performance.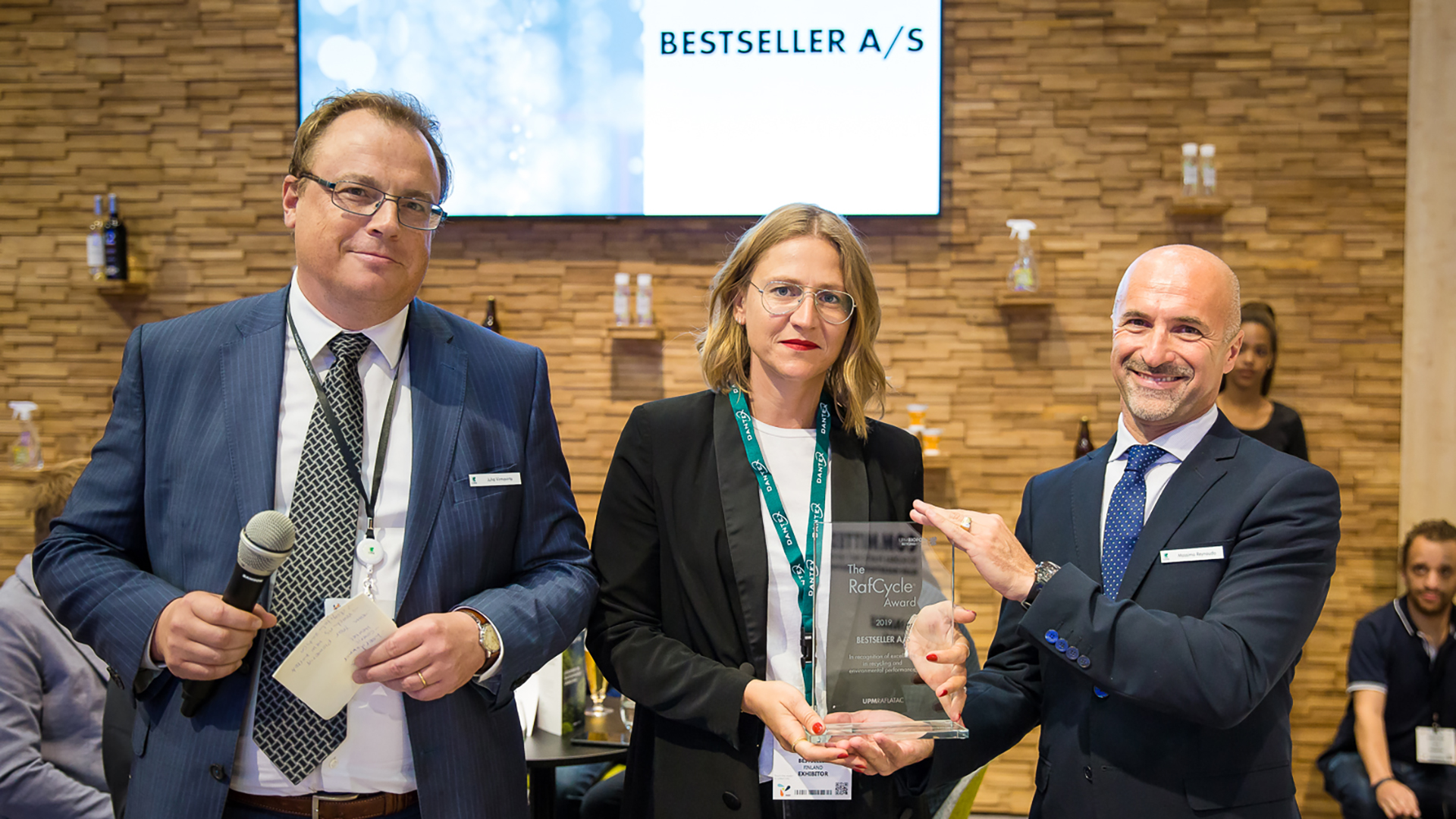 In the picture from left to right: Juha Virmavirta, Director, RafCycle solution, UPM Raflatac, Karolien Arents, Marketing & Communication Manager, BESTSELLER and Massimo Reynaudo, Senior Vice President, EMEIA Region, UPM Raflatac.
BESTSELLER, an international fashion company with brands such as JACK & JONES, ONLY and VERO MODA, has demonstrated great commitment to improving the environmental performance of self-adhesive labeling and promoting the sustainability of the labeling business. Both BESTSELLER and UPM share common values of continuously improving the environmental footprint of their products, operations and supply chain.
BESTSELLER has joined the RafCycle™ by UPM Raflatac waste management concept which gives new life to self-adhesive label waste that would otherwise be landfilled. UPM collects used label release liner from BESTSELLER and recycles it into new graphic printing paper for books and magazines at the UPM Plattling paper mill in Germany.
"BESTSELLER's target was to find a better, cheaper and more sustainable way to handle our labeling waste at our main logistics facility. RafCycle recycling programme matched our needs perfectly. The concept is easy and useable and the implementation has been seamless", says Stefan Bach Olesen, Project Coordinator, BESTSELLER Logistics and continues: "Recycling labeling waste fits perfectly into our Fashion FWD strategy's goal of having 100% of our key waste streams from our head offices and logistics centres be recycled or reused by 2025."
"BESTSELLER has been one of the pioneering companies in bringing digitalization to liner waste recycling. By using RafMore by UPM Raflatac, our intelligent label solution, UPM Raflatac and BESTSELLER have been able to achieve a more efficient process for liner waste recycling", says Juha Virmavirta, Director, RafCycle solutions, UPM Raflatac.
Congratulations to BESTSELLER! We are labeling a smarter future together.
Click here to download photos »