The United Nations' Sustainable Development Goals are the framework that governments, business and civil society use to drive the sustainability agenda. With those goals in mind, UPM Raflatac developed the Biofore Site™ concept and set responsibility targets for 2030 that aim to improve its environmental, social and economic performance. The aim is to build a site-specific roadmap that includes auditing, measuring and evaluating progress. The Biofore Site concept will facilitate growth of a strong sustainability culture and increase transparency.
As part of Biofore Site™, UPM Raflatac Mexico held a contest among employees to generate improvement ideas for saving energy both at home and at work.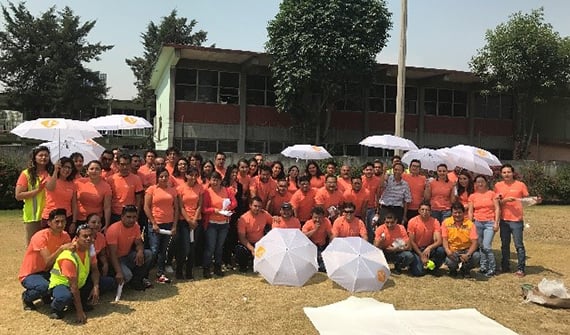 Our employees from Mexico were eager to brainstorm ideas to reduce energy consumption.
"Our people actively participate and are closely involved in making operational improvements. They gladly participate in challenges. Brainstorming in teams helps to generate great ideas. As a result of our contest, we received smart suggestions for reducing energy consumption in the terminals, the offices, and even at home," says Luz Jiménez, Quality Engineer, UPM Raflatac México.
Smart habits save measurable energy
Ideas included, for example, replacing traditional lights with LED lamps, installing presence sensors to activate lighting in the office areas, changing paper driven approval processes in Finance and HR to electronic systems and using a timer to prevent air extractor fans from running when site is closed.
One suggestion was chosen as a winner. From the Tultitlán terminal, located near Mexico City, the maintenance team, produced the winning idea to install an automatic closing valve for the air supply in each of the machines. Energy savings were calculated to add up to 544 kWh every month, with a 1.7-year return on investment. (544 kWh is enough electricity to operate 544 100-watt light bulbs for 10 hours.)
"We applaud the major impact that these suggestions will have on our energy consumption and want to thank everyone who provided ideas. The winning team's well-thought-out suggestion will be put into effect. When people see their ideas implemented in real life, it motivates them to participate in concepts like Biofore Site in the future", Jiménez says.
Expectations and hopes for reducing our environmental footprint via the Biofore Site concept in Mexico remain high. More actions are planned for 2019.
Mexico remain high. More actions are planned for 2019.
"We will keep on working hard to improve our environmental performance. Thanks to our people's willingness to participate in all UPM initiatives, we expect to continue receiving ideas. Our employees' concerns and ideas are important to us, and we are more than happy to listen to them!", Jiménez concludes.

UPM Raflatac aims to label a smarter future by improving the sustainability performance of its production sites through the Biofore Site™ concept. Our sustainability actions around the world clearly demonstrate that UPM Raflatac is the partner of choice for customers, end-users, suppliers and other stakeholders.