The United Nations' Sustainable Development Goals are the framework that governments, business, and civil society use to drive the sustainability agenda. With those goals in mind, UPM Raflatac developed the Biofore Site™ concept and set responsibility targets for 2030 that aim to improve its environmental, social and economic performance. The aim is to build site-specific roadmaps that include auditing, measuring and evaluating progress. The Biofore Site concept will facilitate growth of a strong sustainability culture and increase transparency.
Minimizing the impact of industry on communities and the environment is one aim of the Biofore Site™ concept. One of the ways UPM Raflatac seeks lessen its impact is to reduce the amount of water consumed and wastewater produced in factories worldwide.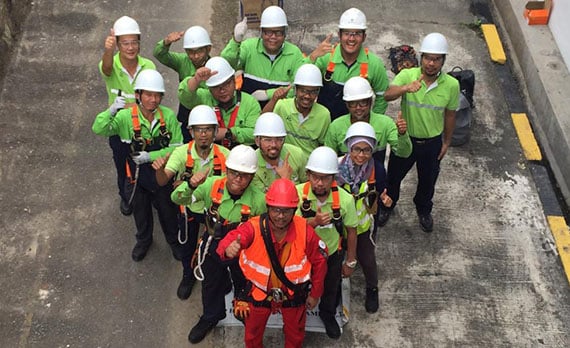 Team Malaysia has found ways to reduce water consumption
In the UPM Raflatac factory in Malaysia, what started a year ago as a Lean Six Sigma Project has gone on to reduce significantly the amount of water used in the factory.
"We had to cope with challenges of spills and leaks to reduce our water consumption. We also had to come to terms with the reality that because of the nature of our coating process some wastewater is produced that can't be reduced or recycled. So we worked to reduce wastewater volume as much as possible," Wan Adlan, Safety and Environment Manager at UPM Raflatac Malaysia notes.
Despite these challenges, UPM Raflatac Malaysia has successfully reduced its water consumption by approximately 16 % in 2018 as compared to 2017 when normalized to production.
Wan points out that through training, awareness and better planning, much can be accomplished.
"We have taken deliberate steps that together have helped us minimize water consumption. We made machine modifications that optimize adhesive use and minimize water flushing requirements. We also found that if we planned jobs by adhesive type, we could reduce water use for grade changes," Wan explains.
Project Coordinator Norifa Nordin is positive about future development. "It is easy to waste water. If our team were not aware of the negative environmental impact of wasting water, no doubt water consumption and wastewater generation would increase. The cost of wastewater disposal is rising, so this project also saves us money. With continual improvement, we hope our water consumption volume will continue to decrease and UPM Raflatac Malaysia will meet our Biofore Site water target before the 2030 deadline."

UPM Raflatac aims to label a smarter future by improving the sustainability performance of its production sites through the Biofore Site™ concept. Our sustainability actions around the world demonstrate that UPM Raflatac is the partner of choice for customers, end-users, suppliers and other stakeholders.