TAKEAWAYS
1. COVID-19 reshaped the brewing industry. With taprooms closed, breweries had to find a way to serve their kegged beers. With pre-printed cans hard to come by, many turned to labeled cans.
2. The pandemic caused unemployment for untold numbers of hospitality workers. Breweries in New Jersey formed the Brewery Strong charity. ModTek and UPM Raflatac supplied the labels to breweries to use on special beers benefiting this charity.
3. ModTek depends on excellent service and high- quality, consistent label materials so they can best support their customers. UPM Raflatac is proud to be their partner on this journey.
COVID-19 has resulted in the temporary – and in some cases permanent closure of restaurants, bars and breweries around the U.S., affecting the livelihoods of millions of hospitality workers. Traditionally, many breweries have kegged beer to serve in their taprooms and other facilities, but with patrons no longer allowed to visit, these breweries needed to quickly figure out how they could package and sell their beer.
Many pivoted to canning their beer, but this resulted in a shortage of pre-printed cans. Labeled cans were the obvious alternative, and demand for those labels shot up. Breweries started having great success selling their beer to-go. Along with this, many began looking at how they could support those in the hospitality industry who had lost their jobs.
At the same time, a brewery in New York developed a recipe for a beer called All Together and called on breweries around the country to put their own spin on the it and donate proceeds to the charity of their choice.
Supplying labels to support the brewing industry
Pressure sensitive printer and converter ModTek saw themselves as fortunate that COVID-19 did not impact their business. "We are fortunate that the pandemic was beneficial to the pressure sensitive labels industry," stated Scott Egan, ModTek's Director of Sales. "We knew we had to find ways to give back to those who were negatively affected."
To support their community, Modtek offered to donate printed labels to any brewery interested in brewing the All Together recipe. All told, ModTek worked with nearly 30 breweries on the project, printing everything from labels for 12- and 16-ounce cans to 32-ounce crowlers, with most profits going to the charity Brewery Strong to help New Jersey's workers in need.
Egan approached his UPM Raflatac Territory Sales Manager, Tim Brown, to see if the company would be interested in donating the label materials for the project.
"To us, it was a no-brainer to partner with ModTek on this important project," Brown said. "We value the work our customers do to improve their communities, and UPM Raflatac is honored to support in any way we can."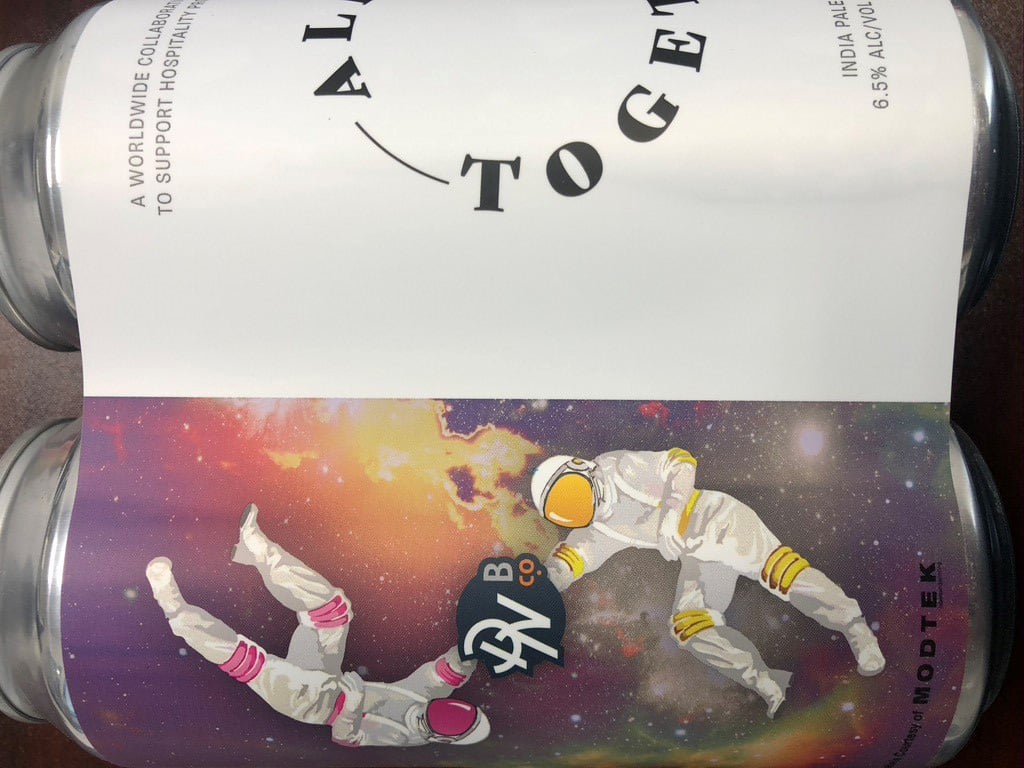 "The relationship between ModTek and UPM Raflatac is very strong. It's not just because of price, but it truly is the service – Tim and his team do an excellent job supporting us. In this business it's about being as fast as you can to market and in that regard UPM Raflatac is a great partner that allows us to be there for our customers," Egan said.
"Performance-wise, UPM Raflatac's materials are extremely consistent – that's super important," he added. "ModTek can only control the printing and converting part. We count on consistency and quality from UPM Raflatac, and that's especially true in this instance when labels are being applied to wet cans."