The unique circular economy value chain enables the recycling of label release liner waste, ensures the supply of PET raw material to a Finland based chemical company Inosence Polyol Oy and increases the share of recycled raw material in Finnfoam's insulation production.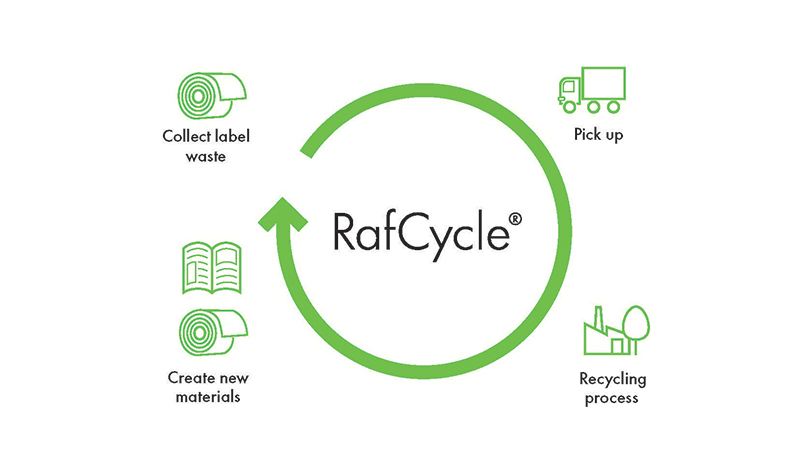 UPM Raflatac, Inosence Polyol Oy and Finnfoam have built an innovative collaboration model that improves the resource efficiency. The PET plastic label liner waste collected through UPM Raflatac RafCycleTM recycling service forms a waste stream which is difficult to recycle. Now this label liner waste can be processed into a raw material in a process developed by Inosence Polyol, which Finnfoam then uses as a raw material for polyisocyanurate or FF-PIR insulation.
About 80 percent of the backing materials for self-adhesive labels are paper and there are established processes for recycling them. The remaining 20 percent are PET-based films with an extremely thin layer of silicone applied to the plastic. These fractions are difficult to separate, and therefore these PET plastic backing films have in the past ended up being mainly incinerated.
"Disposable or short-lived products are often made from PET recycled plastic. In our solution, the recycled raw material is made into an insulator, e.g., a durable product that binds carbon for decades. Our value chain fulfils even a critical review, and in addition we are making the label industry much more sustainable," says Juha Virmavirta, Director, RafCycle Solutions, UPM Raflatac.
UPM Raflatac collects PET-based film waste from its customers and end users. Inosence Polyol Oy utilizes the waste collected for the production of polyol. UPM Raflatac's material flow guarantees a steady supply of raw materials for the production of polyol.
"The solution we developed together with UPM Raflatac and Inosence Polyol Oy is a great example of the potential of chemical recycling. It allows many difficult-to-separate materials to be separated and recycled. The new economic and environmentally responsible recycling methods will also drive the legislative changes and further increase the obligation to recycle and reduce waste incineration, which is naturally a very good thing," says Henri Nieminen, CEO of Finnfoam.
Click here to download images >>
For further information please contact:
Juha Virmavirta, Director, RafCycle Solutions, UPM Raflatac, tel. +358 40 504 7899
Henri Nieminen, CEO Finnfoam, tel. +358 400 636 992
Sami Häkkinen, Director, Inosence Polyol Oy, tel. +358 400 733 475
UPM, Media Relations
Mon-Fri 9:00-16:00 EEST
tel. +358 40 588 3284
media@upm.com
UPM Raflatac
UPM Raflatac is leading in sustainable labeling through our innovative self-adhesive label materials and services. We offer high-quality paper and film label stock for branding and promotion, informational labels, and labels with functionality. We operate a global network of factories, distribution terminals and sales offices. Our company employs around 3,000 people and made sales of EUR 1.7 billion (USD 1.9 billion) in 2021. UPM Raflatac is part of UPM. Find out how we are labeling a smarter future beyond fossils at www.upmraflatac.com.
Follow UPM Raflatac on Twitter | LinkedIn | Facebook | YouTube | Instagram
UPM
We deliver renewable and responsible solutions and innovate for a future beyond fossils across six business areas: UPM Fibres, UPM Energy, UPM Raflatac, UPM Specialty Papers, UPM Communication Papers and UPM Plywood. As the industry leader in responsibility, we are committed to the UN Business Ambition for 1.5°C and the science-based targets to mitigate climate change. We employ 17,000 people worldwide and our annual sales are approximately EUR 9.8 billion. Our shares are listed on Nasdaq Helsinki Ltd. UPM Biofore – Beyond fossils. www.upm.com
Follow UPM on Twitter | LinkedIn | Facebook | YouTube | Instagram | #UPM #biofore #beyondfossils

Finnfoam Oy, Finland
With 40 over years of experience, the Finnish family-owned company Finnfoam offers and develops the market's most advanced structural energy efficiency solutions for reducing the carbon footprint of buildings.
The Finnfoam Group is well known as an environmental leader in building material industry. By innovative development work Finnfoam has become one of the leading manufacturers of plastic-based thermal insulation solutions in the Baltic Sea Region. Expertise, quality, and customer orientation guarantee safe solutions for all insulation. Today company's product range includes all the hard and mold resistant thermal insulation most commonly used in the world: FINNFOAM (XPS), FF-EPS and FF-PIR also Tulppa wet room boards.
Turnover in 2021 was approx. 179 million euros and more than 300 employees. Finnfoam produce insulation products in Finland, Sweden, Estonia, Lithuania and Spain. The headquarter and product development are in Salo, Finland.
Inosence Polyol Oy is a Finnish- Dutch chemical company. It was founded in 2016 by Sami Häkkinen and Allard van der Wal. Since 2019, Inosence has been producing recycled PET plastic-based polyester polyols and ethylene glycol in Salo, Finland. Inosence is a technology-driven company, and it has developed its own polyester polyols and a unique production process along with a high precision filtration system which makes it possible to make genuinely pure end products.
Inosence has a great deal of knowledge in polyurethane applications. One of its strengths is coming up with tailor-made polyol solutions for its customers, alongside regular drop-ins for the main industry groups.