UPM Raflatac's intelligent label solution, RafMore by UPM Raflatac, is now available faster and more securely than ever thanks to a groundbreaking integration between Xeikon's digital printing presses and Magic Add's Internet of Packaging platform.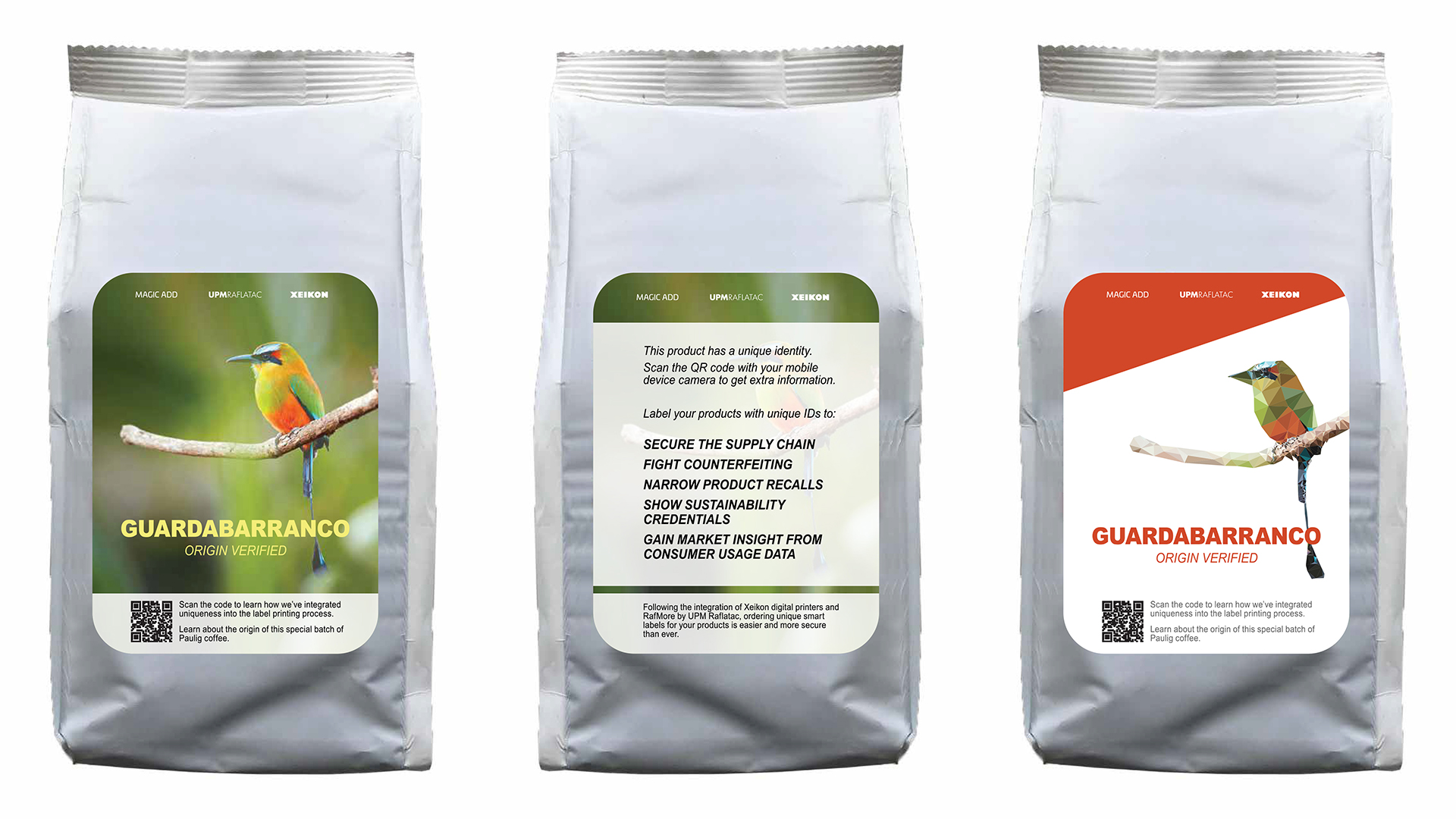 Magic Add's IoP platform, which powers UPM Raflatac's RafMore smart labels, can now send unique IDs to Xeikon digital printers directly from the cloud. Xeikon can automatically and securely print RafMore smart labels with unique digital identities in the form of any standard, machine-readable code with shorter turnarounds and in greater quantities than ever possible before.
"Even if you need several million labels, you can just choose to add unique IDs to them during the normal printing process. Integrating Magic Add's unique ID generation into Xeikon's X-800 work flow enables new applications and reduces the time because there's no need for manual integration," says Jeroen Van Bauwel, Director of Product Management at Xeikon.
"This makes smart packaging much faster and easier for brand owners, especially if they want to try smart labels for the first time," says Ari Salonen, CEO of Magic Add.
Using smart labels to give products unique digital identities brings a variety of benefits without adding much to label unit cost. UPM Raflatac's RafMore smart labels can be used to track product origin, authenticate products and fight counterfeiting, make product recalls as narrow as possible, show consumers sustainability credentials, and more. In return for offering users more product information and supply chain transparency, brands gain valuable market insight data based on real-time consumer usage.
Xeikon will unveil the new integration at upcoming Labelexpo Europe 2019 in Brussels. They will distribute a demo at their booth (Hall 5 C28) featuring RafMore smart labels with unique IDs pulled directly from Magic Add's IoP platform. In addition to showcasing the digitally printed smart labels, the demo will provide a real-world example of the power of smart packaging. The demos contain samples of fully origin-tracked coffee from a pilot conducted by Magic Add, UPM Raflatac, Paulig, coffee partner Volcafe, and farmer outreach programme Volcafe Way.
Using RafMore smart labels, Paulig's coffee was tracked starting at the point of harvest in Guatemala, through roasting and packaging. In the pilot, the data flow was tested from the country of origin, where the coffee was grown and harvested sustainably and all through the supply chain. "This is a holistic demo of both the value of smart packaging and how brands could introduce it to their products to increase transparency for consumers," says Sami Poukka, Vice President for Global Business and Segment Development at UPM Raflatac.
Click here to download photos »
For further information please contact:
Sami Poukka, Vice President, Global Business and Segment Development, UPM Raflatac, tel. +358204168100
Charlotte Junnila, Communications Manager, Magic Add Ltd, charlotte.junnila@magicadd.com, tel. +358 (0) 40 857 4008
UPM, Media Relations
Mon-Fri 9:00-16:00 EET
tel. +358 40 588 3284
media@upm.com
UPM Raflatac
UPM Raflatac is labeling a smarter future beyond fossils by developing innovative and sustainable labeling solutions. As one of the world's leading producers of self-adhesive label materials, we supply high-quality paper and film label stock for consumer product and industrial labeling through a global network of factories, distribution terminals and sales offices. We employ around 3,000 people and made sales of EUR 1.5 billion (USD 1.9 billion) in 2018. UPM Raflatac is part of UPM. Find out more at www.upmraflatac.com.
Follow UPM Raflatac on Twitter | LinkedIn | Facebook | YouTube | Instagram
About Magic Add Ltd.
Magic Add is pioneering Internet of Packaging (IoP) technology. We built a platform that can serialize an infinite number of packages, connect them with the cloud, and attach digital services. When individual products have unique digital identities, they can collect and share information as they journey through the supply chain. This can be used to verify authenticity and fight counterfeiting; track and communicate origin of raw materials; share interesting information with consumers, from coupons to recycling instructions; optimise transportation logistics; and more. It also provides insight and actionable data gathered from real-time, real-world usage. Find out more about Magic Add and the Internet of Packaging at http://www.magicadd.com/. Follow Magic Add on Twitter | LinkedIn | Facebook