​The United Nations' Sustainable Development Goals are the framework that governments, business and civil society use to drive the sustainability agenda. With those goals in mind, UPM Raflatac developed the Biofore Site™ concept and set responsibility targets for 2030 that aim to improve its environmental, social and economic performance. The aim is to build a site-specific roadmap that includes auditing, measuring and evaluating progress. The Biofore Site concept will facilitate growth of a strong sustainability culture and increase transparency.
Supporting local communities is a part of UPM Raflatac's Biofore Site™ concept.
The orphanage Lar Feliz in Jaguariúna, Brazil is a home to 45 children between the ages of 0 to 17. The orphanage has a long tradition and it is well-known in the local community, says David Silva, Production Planner at Jaguariúna Terminal, UPM Raflatac Brazil.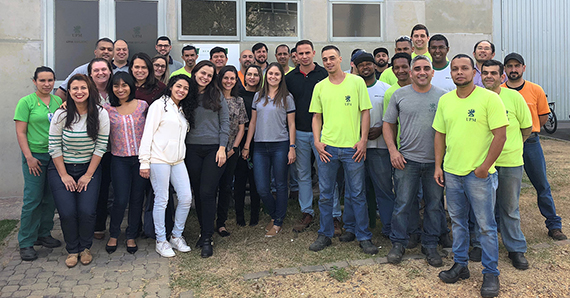 Our employees from Jaguariúna terminal in Brazil donated clothes, pants, t-shirts, shoes, blankets, milk, detergents, personal hygiene products and toys to the local orphanage Lar Feliz.
"I believe in expressing solidarity, for example with donations, to help the children feel our compassion and support. My family donates quite often to good causes and this time I thought it would be a good idea to involve my coworkers", Silva explains. So along with his family, he organized a material donation among UPM Raflatac employees.
The materials for the children were collected for one week, and the donated clothes, pants, t-shirts, shoes, blankets, milk, detergents, personal hygiene products and toys were delivered to the orphanage.
Positive actions generate positive energy
Henrique Campioni, Terminal Manager, UPM Raflatac Jaguariúna says it is important to create a better community and make the world a better place with positive actions.
"Especially caring for children by providing education, respect and love is important and it has long-lasting impact on the community. This is so simple an action that everybody can do, but sometimes we just wait for other people to do it for us. We believe that positive actions generate more positive actions, and we can make the difference."

UPM Raflatac aims to label a smarter future by improving the sustainability performance of its production sites through the Biofore Site™ concept. Our sustainability actions around the world clearly demonstrate that UPM Raflatac is the partner of choice for customers, end-users, suppliers and other stakeholders.