The United Nations' Sustainable Development Goals are the framework that governments, business, and civil society use to drive the sustainability agenda. With those goals in mind, UPM Raflatac developed the Biofore Site™ concept and set responsibility targets for 2030 that aim to improve its environmental, social and economic performance. The aim is to build a site-specific roadmap that includes auditing, measuring and evaluating progress. The Biofore Site concept will facilitate growth of a strong sustainability culture and increase transparency.
After three years of drought, the residents of Cape Town, South Africa faced the real possibility of Day Zero – a day the government planned to shut off municipal water supplies and require citizens to queue for water. Fortunately, following rains in June, combined with enormous efforts by citizens and businesses to limit water use, the possibility of a Day Zero has been pushed forward until at least 2019.
Employees at UPM Raflatac's Cape Town terminal are doing their part in the face of these challenging conditions. In April, they installed a rainwater harvesting system that works by collecting rainwater in a storage tank and using that water to flush toilets.
The installation was simple: close a ball valve, disconnect the toilets from the local municipal water supply, and then re-connected them to the terminal's storage tank.
"With this system in place we are conserving drinkable water and reducing costs," says Shawn Van Wyk, Terminal Production Supervisor.
Every toilet flush uses about 15 liters of water. Van Wyk estimates that the water savings can be hundreds of liters per day.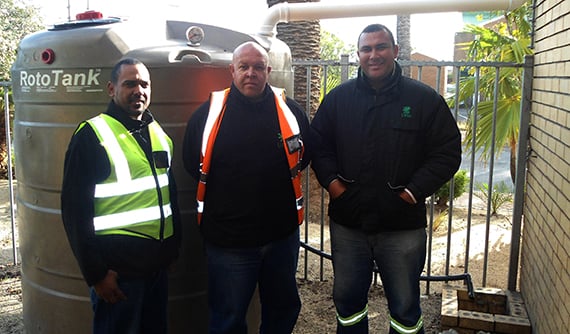 Following the severe drought period in Cape Town, South Africa, our terminal team installed a rainwater harvesting system that works by collecting rainwater in a storage tank and using that water to flush toilets. In the picture: Keith Nathan, Slitter Operator, Anton Dreyer, Team Leader and Wayde Coetzee, Slitter Operator.
Water conservation as a key focus
The employees are enthusiastic about the system.
"Employees feel that this is a great way of contributing to the well-being of our environment. They feel very proud of being part of this. Some of them have been inspired to start to do the same at their homes," tells Shawn with excitement.
With water conservation a key focus area for the Biofore Site™ concept in 2018, other Raflatac facilities can follow the Cape Town team's lead.
"Rainwater harvesting systems for flushing toilets, or other uses like irrigation, are commonly incorporated in new "green" buildings constructed today. Even in areas not affected by extreme drought, it makes sense for us to explore retrofitting our sites with this cost effective and low maintenance technology, so we can realize both cost savings and environmental benefit," comments Laura Cummings, Director, Health, Safety and Environment, UPM Raflatac.
"We should also consider the advantages of developing secondary water supplies in the event UPM Raflatac sites in other locations are faced with water restrictions in the future."
Reducing the amount of waste
Sustainability has an important role at the Cape Town terminal. The terminal continually seeks ways to reduce the amount of waste generated and energy consumed. Recently, employees have started to re-use some of the pallets from raw material deliveries.
"We pay careful attention to recycling. We recycle everything that can be recycled: we have colour- coded waste bins in which we collect and segregate recyclable materials like white paper, metal tins, plastic bottles and glass," explains Shawn.
In the future, the terminal plans to encourage employees to recycle at home.
"It would be terrific for the community if our employees would practice at home what we do at work. Our aim is to create awareness among our employees and others of the impact waste has on our natural resources and community," concludes Shawn.


UPM Raflatac aims to label a smarter future by improving the sustainability performance of its production sites through the Biofore Site™ concept. Our sustainability actions around the world demonstrate that UPM Raflatac is the partner of choice for customers, end-users, suppliers and other stakeholders.