The United Nations' Sustainable Development Goals are the framework that governments, business and civil society use to drive the sustainability agenda. With those goals in mind, UPM Raflatac developed the Biofore Site™ concept and set responsibility targets for 2030 that aim to improve its environmental, social and economic performance. The aim is to build a site-specific roadmap that includes auditing, measuring and evaluating progress. The Biofore Site concept will facilitate growth of a strong sustainability culture and increase transparency.
The environmental impact of operations is taken seriously at the Scarborough site.
"We try to involve everyone in continuous improvement and this includes embracing the Biofore Site™ concept that aims to build a sustainability culture throughout the factory," explains Neil Bland, General Manager.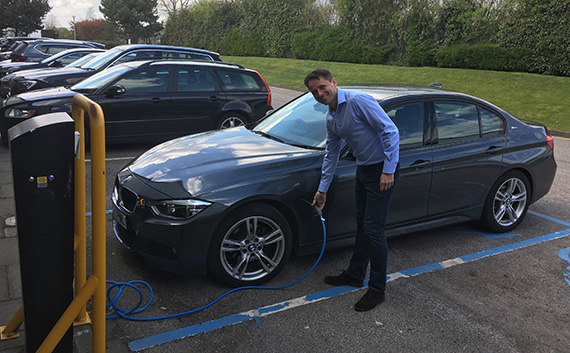 Alan Wright, Vice President, Paper Laminates, EMEIA, UPM Raflatac is a happy and active user of Scarborough electric car charging point.
Several Biofore projects are being run and environmental investments have been made in Scarborough. One of them is the installation of the electric car charging points in the site carpark for employees and visitors. The possibility to charge electric and plug-in hybrid cars has proved to encourage people to make more environmentally friendly choices, as the number of electric and hybrid cars has increased from none to several in one year.
A customer's idea made a change
The idea for a charging station originally came from a customer, who is also striving to improve their environmental impact and encourages the use of hybrid and electric car in their business.
"We try to interact and hear the voice of our customers as much as we possibly can," says Bland.
The investment has made it easier for people to make the switch from diesel and petrol to more sustainable choices.
"We expect and hope to see many more electric and hybrid cars at the factory in the future and so are planning to install more charging stations in the coming year to support this." tells Bland.
Benefits for the environment and the driver

There are also plans to invest in electric mill service vehicles over the coming years. Compared with existing gas-powered forklifts, electric units are more sustainable, they cost less to run, and they are safer and more reliable in use.
Car charging infrastructure is developing across the UK, and the government is encouraging the change through financial benefits. Improving the charging station network is a way to encourage people to make the switch.

UPM Raflatac aims to label a smarter future by improving the sustainability performance of its production sites through the Biofore Site™ concept. Our sustainability actions around the world clearly demonstrate that UPM Raflatac is the partner of choice for customers, end-users, suppliers and other stakeholders.