The United Nations' Sustainable Development Goals are the framework that governments, business, and civil society use to drive the sustainability agenda. With those goals in mind, UPM Raflatac developed the Biofore Site™ concept and set responsibility targets for 2030 that aim to improve its environmental, social and economic performance. The aim is to build a site-specific roadmap that includes auditing, measuring and evaluating progress. The Biofore Site concept will facilitate growth of a strong sustainability culture and increase transparency.
Retrofitting the outer shells of the buildings at UPM's Raflatac factory in Tampere, Finland with LED lights, is another great step forward on the Biofore Site journey. The installation work was completed during the first months of 2018. The project started as a way to improve reliability of site security cameras but has turned out to significantly improve safety and save a great amount of energy in the bargain.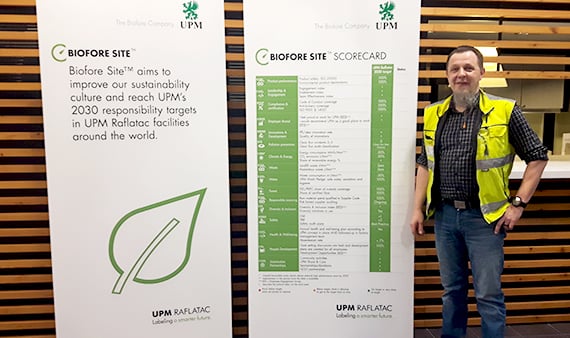 LED lighting consumes considerably less energy than the metal halide lamps and high-pressure sodium lamps used previously. With LEDs, energy use for lighting has been reduced by a third. The 60,000 kWh saved annually translates into 13 tonnes less carbon dioxide emissions each year. It takes approximately 9,600 kWh to keep a house warm all year in Finland's climate – the new LED lighting saves enough electricity to warm about six houses!
Lighting retrofit project for lights outside of UPM Raflatac factory in Tampere, Finland saved 60 000 kWh. This is enough to keep six houses warm all year in Finland's climate.
Good lighting is a major safety factor
The lighting has been boosted throughout and especially in the areas with intense work and traffic.
"When planning the retrofit, we took great care to make sure that all critical areas, defined as where people may work 24/7, are well lit. In other areas, basic lighting is sufficient. The lighting at the loading platforms, for instance, was boosted as it is an area with heavy traffic at all hours and seasons. However, we recognized there is no need for powerful lights when the platforms are not in use, so we also fitted the lights in this area with motion detectors. The parking areas are another example of an area where good lighting is a major safety factor. Possible uneven surfaces and icy spots need to be clearly visible," notes Jori Teinilä, OHS manager, UPM Raflatac.
Motion detectors save energy but are a great safety feature as well. In the warehouse areas, motion detectors turn on lights turn in defined zones rather than the entire warehouse, thus offering a warning to anyone working in the area, driving a forklift, for example, to be extra careful in areas where the lights are on.
LEDs have a longer life than traditional lighting. Since the lighting is attached to the outer walls and roof of the building, it is not always easy to access them for maintenance. This kind of work often requires using a person-lift to access the work areas and temporarily modifying traffic flow, both actions increasing the risk of an accident. Now that we have reduced the frequency of working at height to perform this maintenance, we have reduced the likelihood of a serious incident occurring.
LED lighting has an eight-year return on investment time
Pay-back of the lighting retrofit project is estimated to be approximately eight years based on reduced energy consumption. The replacement schedule for LED lights is eight years versus four years for the lamps used previously.
LED lighting has a colder tone, closer to natural light, than the high-pressure sodium lamps also used in street lights in Finland. In addition to the savings and added security and safety, the UPM Raflatac site in Tampere, with all of its buildings, now has a more uniform look as all lights are of the same tone.
UPM Raflatac aims to label a smarter future by improving the sustainability performance of its production sites through the Biofore Site™ concept. Our sustainability actions around the world demonstrate that UPM Raflatac is the partner of choice for customers, end-users, suppliers and other stakeholders.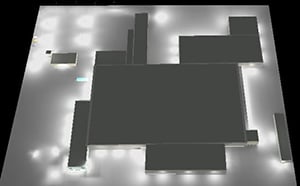 Savings:
60, 000 kWh per year translates to 13 tonnes less CO2 emissions
Actions:
LED lighting replaced metal halide and high-pressure sodium lamps
All areas critical for safety, such as the loading platforms and parking lot, are well lit
Motion detectors control lighting
Reduced need for maintenance lowers safety risks
Buildings have a more uniform look as all lights are of the same tone