The United Nations' Sustainable Development Goals are the framework that governments, business and civil society use to drive the sustainability agenda. With those goals in mind, UPM created responsibility targets to meet by the year 2030. Likewise, UPM Raflatac aims to improve its sustainability performance using the Biofore Site™ concept, which sets targets for production sites aligned with these UN and UPM goals. Each UPM Raflatac production site defines targets for environmental, social and economic performance. The aim is to build a site-specific roadmap with a carefully planned system for auditing, measuring and evaluating progress. Actions taken to achieve Biofore Site targets facilitate growth of a strong sustainability culture and increase transparency.
A great example comes from the UPM Raflatac Biskupice Podgórne factory in Poland. Over the last four years, all the electricity used in this factory was generated from 100% renewable sources.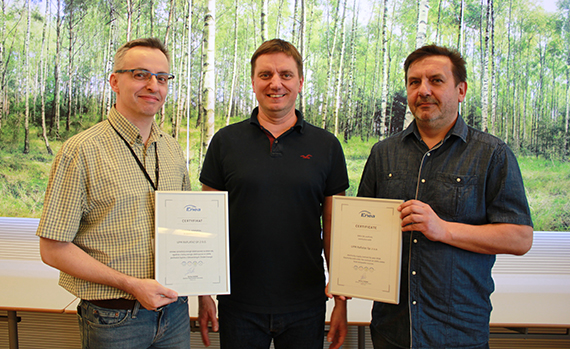 "The decision to use renewable electricity was extremely easy to make. It supports the company's sustainability strategy. In addition, the cost compared to non-renewable electricity wasn't significantly higher," says Pekka Verkama, Mill Services Manager at UPM Raflatac Biskupice Podgórne mill.
Enea, one of the largest energy groups in Poland, supplies electricity to the Biskupice Podgórne factory. Enea produces renewable electricity from hydropower plants, wind farms and biogas plants.
"We follow our energy consumption against square meters of labelstock materials produced," states Verkama, describing one Biofore Site sustainability target. To meet sustainability performance expectations and UPM's 2030 responsibility targets, energy savings and use of renewable energy are high on UPM Raflatac's agenda.
"Use of fossil fuels and non-renewable energy sources will finally end. It is important to act now to protect our environment," Pekka Verkama concludes.

UPM Raflatac aims to label a smarter future by improving the sustainability performance of its production sites through the Biofore Site™ concept. Our sustainability actions around the world clearly demonstrate that UPM Raflatac is the partner of choice for customers, end-users, suppliers and other stakeholders.