TAKEAWAYS
1. Ego Pharmaceuticals is Australia's leading producer of innovative dermatological skin care products. The company's sustainability principles inform and guide their packaging design choices.
2. Ego Pharmaceuticals' latest brand, etch&ethos, took home three trophies at the 2022 Australasian Packaging Innovation & Design Awards (PIDA). The recognized 1L HDPE refill pack uses UPM Raflatac's Forest Film PE, a 100% wood-based plastic label certified using the ISCC mass balance approach.
3. Due to its innovative sustainability concept and reduction of CO2 emissions, Forest Film PE helps Ego Pharmaceuticals take positive climate action and cater to increasing market demand for sustainable solutions.
4. The identical performance and quality between Forest Film PE and fossil-based PE saves time on extensive testing and also reduces the risks involved in changing packaging materials, which helped Ego to launch their product on time.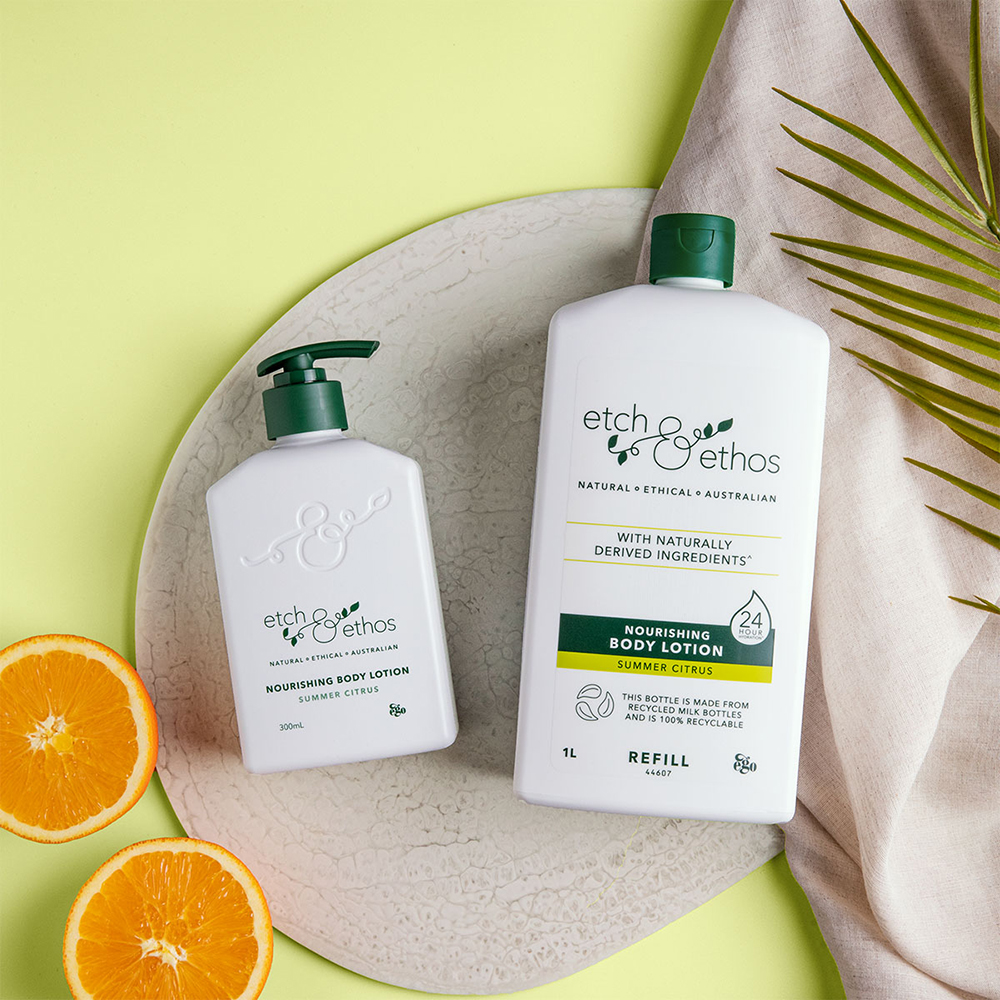 Australia is heavily affected by climate change, as the country is vulnerable to the impacts of increasing temperatures, raising sea levels, and more frequent and severe weather events. As risks of global warming become more apparent, Australian businesses are being called upon to step in to help mitigate climate change.
"In Australia, brand owners are facing increasing pressure both internally and externally to provide more sustainable solutions that help consumers reduce their impact on the climate and the environment. At Ego, our ethos of sustainable skincare products also extends to packaging", says Nicholas Rodgers, Packaging Technologist at Ego Pharmaceuticals.
In September 2022, the company's etch&ethos brand took home three throphies at the Australasian Packaging Innovation & Design Awards (PIDA). Ego Pharmaceuticals received the Gold award for Sustainable Packaging Design of the Year with a focus on Recycled Content, the Silver award for Health, Beauty & Wellness Packaging Design of the Year, and the Bronze award for Marketing Design of the Year.
etch&ethos received the Gold award for its unique packaging design that utilizes 50% recycled HDPE plastic from Australian milk bottles. The brand offers two options: a 300mL pump pack that is meant to be kept and reused, and a 1L refill pack that can be recycled through curbside recycling. It is estimated that etch&ethos will prevent approximately 200,000 milk bottles from being sent to landfill during its first year in market.
Sustainable label to boot
For the 1L refill pack, etch&ethos uses UPM Raflatac's Forest Film PE, a wood-based film label material that has been certified by ISCC. Forest Film PE is made using UPM BioVerno naphtha, which is derived from sustainably managed forests and is 100% wood-based. The production process for Forest Film involves using renewable resources to replace fossil resources, in a method known as mass balance approach. This makes Forest Film the first of its kind on the market.
"A label that is made from non-fossil fuel PE was an interesting concept and the fact that it is ISCC certified and produced by using sustainable resources to replace an equivalent amount of fossil resources in the production process was a real winner from a sustainability perspective. Also, the Forest Film PE product concept matches our own brand concept of using natural ingredients", Rodgers recounts.
Using Raflatac's Label Life service, Ego Pharmaceuticals estimates that Forest Film PE gives a CO2 reduction of 48% compared to using standard PE film. UPM Raflatac's Label Life service is based on LCA, a scientific method that analyzes the environmental impacts of Raflatac´s products. With Label Life, Raflatac customers can access LCA calculations on three key metrics: greenhouse gas emissions, energy demand, and water consumption.
Predictable performance saves time
UPM Raflatac Forest Film PE has improved sustainability without sacrificing performance compared to traditional fossil-based film options. It maintains the same performance, quality, and recyclability as regular fossil-based film, without competing for resources or land used for food production.
"We were initially looking at the use of recycled film for the label stock for the 1L refill pack. But when we saw that we could get the same functional performance from the Forest Film PE as we would from conventionally produced PE, we decided that it would be better to reduce the risk of label failures on the line by adopting the Forest Film stock for the brand rather than risking delays to launch by trying to bring in a film that would need extensive testing on the lines to ensure that we wouldn't have any issues with applying the labels in the short timeframe that we had."
Rodgers highlights the importance of a sustainable supply chain in creating successful products that help rein in CO2 emissions - positive climate actions never happen in isolation.
"Cooperation and collaboration are essential. Without the participation of every company in the supply chain driving change, the efforts we make to bring more sustainable solutions to the marketplace will not have the impact to make the changes that are necessary. It's time to be brave and take that first step on the journey to a better tomorrow, as every little bit of improvement shows the way for what can be done in the future", Rodgers says.