TAKEAWAYS
1. UPM Raflatac's Global Notes business introduces UPM Notes product range with renewed plastic-free packaging
2. To eliminate the use of unnecessary plastic, UPM Notes are wrapped in transparent FSC™-certified (FSC C003094) paper, making the packaging renewable and recyclable
3. UPM Notes packaging is complimented with UPM Raflatac RAFNXT+ paper label
UPM Raflatac is a global supplier of self-adhesive film and paper products. In 2022, the company acquired AMC AG (Advanced Methods of Coating) to accelerate its growth and broaden its product portfolio with exquisite film laminates under the Intercoat business and high-quality removable self-adhesive products under the Global Notes and Print Inform businesses. Since the acquisition, sticky notes have been a vital part of the company offering and sold under the Global Notes by UPM Raflatac business.
Switching to renewable packaging
UPM Raflatac is constantly looking for ways to reduce the carbon footprint of its products. For the sticky notes portfolio, this means renewing the packaging.
Packaging has a great deal of demands. While it must reliably protect its contents in shipping and sales, it should also support the product's overall sustainability performance and have the right texture and look to support the brand experience.
To achieve all this, UPM Raflatac has launched a renewed sticky notes product range, UPM Notes. UPM Notes provides users with a selection of colorful sticky note pads and cubes made from FSC™-certified (FSC C003094) paper from sustainably managed forests and other controlled sources. To reduce unnecessary plastic waste, the notes are thoughtfully wrapped in transparent FSC-certified paper, which is renewable and recyclable. The packaging can be easily disposed of in the paper bin, making it hassle-free for consumers to recycle it.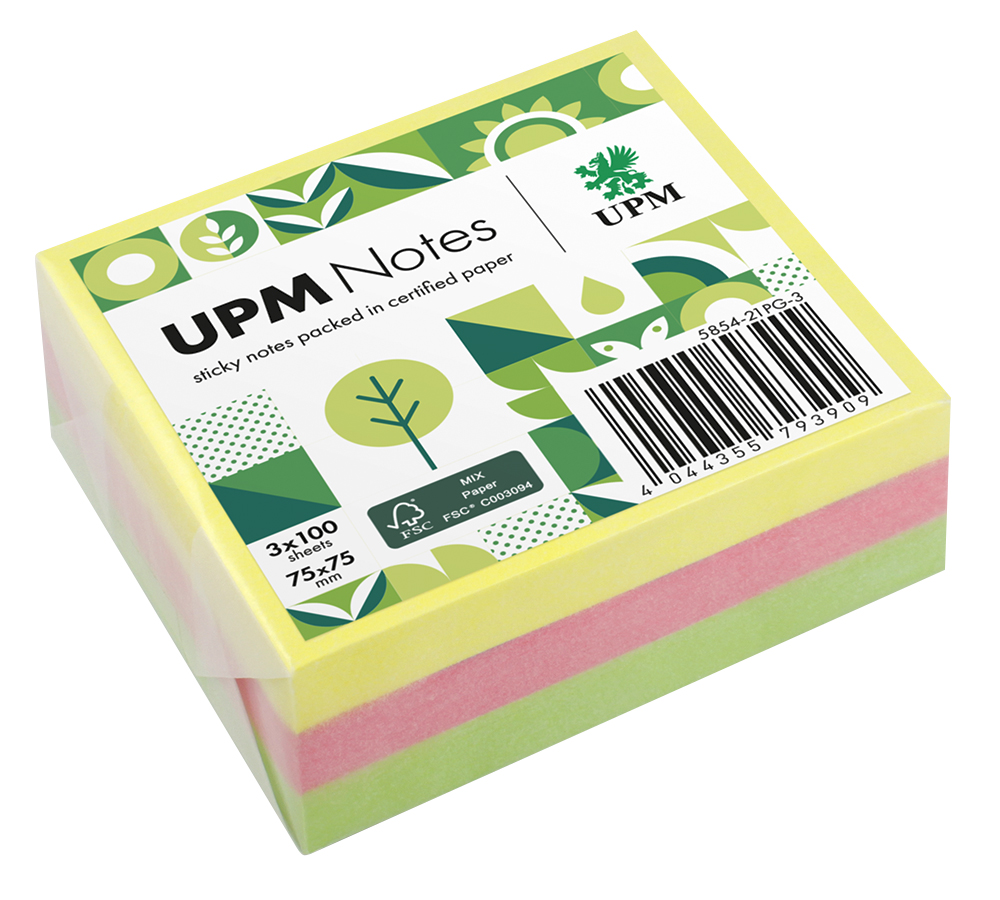 Result of a great collaboration
To further enhance the packaging and tie UPM Raflatac's core competence – self-adhesive labeling – to it, UPM Notes features UPM Raflatac RAFNXT+ paper label material. The label aligns perfectly with UPM Notes' overall packaging concept.
The RAFNXT+ range has been developed as a lower-carbon alternative to traditional labeling materials. Through smarter choice and use of raw materials, RAFNXT+ products have lower carbon footprints compared to standard labeling materials.
Ville Pollari, Business Director of Global Notes & Print Inform at UPM Raflatac, is pleased with the result and highlights the significance of the collaboration between the different UPM Raflatac businesses.
"Our commitment to sustainability is at the heart of everything we do at UPM Raflatac. The collaboration in creating the UPM Notes range exemplifies our dedication to providing sustainable solutions that align with our core values."
UPM Notes is a great addition to the sticky notes market as it pushes the standard in creating more sustainable alternatives for packaging.