TAKEAWAYS
Orthex Group and UPM Raflatac help prevent marine litter with innovative products.

Orthex Group is using raw material from used fishing nets in the production of household items, while UPM Raflatac makes use of ocean bound plastic waste.

These Orthex products have a reduced carbon footprint compared to the use of virgin plastics.

Ocean Action label materials complement Orthex Group´s sustainable product portfolio and open new markets among environmentally conscious retail chains.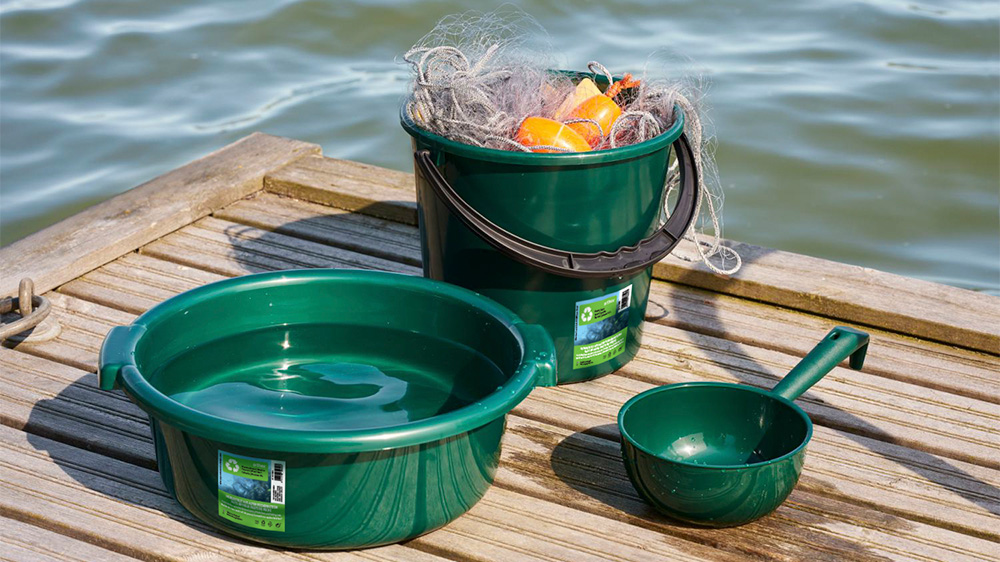 Fishing nets discarded at sea put a lasting strain on marine ecosystems. A single net can remain in the sea for up to 600 years before decomposing. More than 640 000 tons of fishing gear end up in the seas every year and in 2016, about 17% of all waste on European shores consisted of fishing nets.
This is what Orthex Group aims to change.
"We want to show by example that plastic items can be made in innovative and more sustainable ways," Alexander Rosenlew, CEO of Orthex, says.
In 2018, Orthex introduced a new product line based on raw material made from used fishing nets.
"We learned about an innovation by a Danish company. We immediately wanted to see how this revolutionary plastic raw material is made," Rosenlew recalls.
The raw material is collected from old fishing nets and ropes from harbors in Scandinavia, in the UK and in Northern Europe. Collected material is then sorted, cleaned, shredded, and extruded into raw material pellets. In addition to creating incentive to keep used fishing nets out of the seas, the raw material has up to 94% lower carbon emissions compared to virgin plastic.
"The decision to use this new raw material was taken right away when we realized the positive impact using such a material could have both on the oceans and the climate."
World´s first fishing net buckets
Before launching the new product line, Orthex carefully mulled over what could be the world´s first household product made of the new material.
"As Finns are bucket-loving people, the solution was obvious," Rosenlew says.
The resulting bucket is made completely of recycled plastic. The container is made of fishing nets-based material and the handle is post-consumer recycled plastic.
Orthex has introduced also other products made of recycled fishing net plastic, including wash bowls and water scoops. "As consumers are becoming more environmentally conscious, retail chains also need to offer more responsibly made products to meet their customer's needs."
UPM Raflatac Ocean Action label materials – a perfect fit
UPM Raflatac Ocean Action label materials are the world´s first label materials made from ocean bound plastic waste. The plastic waste is harvested from shorelines within 200 meters from tide limit and from waterways within 50km from shore. Waste collection is targeted in communities or areas where waste management is non-existent or very inefficient. Using ocean bound plastics in products incentives the collection on waste on these areas and help reducing the amount of plastic waste entering to the ocean. The collected plastic is then chemically recycled and thus given a new life as label materials.
Rosenlew saw UPM Raflatac Ocean Action label materials and Orthex products made from recycled fishing nets a perfect fit, as they both aim to help protect our seas. As with the fishing net raw material, the decision to start using UPM Raflatac Ocean Action label materials came quickly, and in November 2022, Orthex introduced Ocean Action label materials on its fishing net products.
"UPM Raflatac's Ocean Action labels are the icing on the cake, making our products even more sustainable. We can now talk about holistically responsible products."
According to Rosenlew, Orthex can expect additional interest in the European market Ocean Action label materials are classified as packaging material.
"European legislation gives preference to products whose packaging materials are made from recycled raw materials."
Rosenlew and Orthex are pleased with the cooperation with UPM Raflatac.
"Orthex and UPM Raflatac have the same mindset, which leads to good decisions and results. The collaboration has been smooth, and support has always been there when needed. This has allowed us to make quick decisions. Sustainability projects are difficult to do alone, and to get the best out of the whole, you need good partners. Together we can be better," Rosenlew concludes.