TAKEAWAYS
1. Fostering sustainable business is in the DNA of Unilever
2. UPM Raflatac Raflex Pro label material shows significant reductions of CO2 emissions and moves Unilever closer to reaching its sustainability commitments
3. Thinner label material with exceptional performance brings more value to the bottle converters
Lowering CO2 emission with thin films
Since the implementation of the thin film label material, Unilever has gained multiple sustainability benefits. According to UPM Raflatac's Life Cycle Assessment (LCA) calculations, the change from PE85 materials to Raflex Pro helps Unilever reduce 245, 893 kg CO2 emissions in total.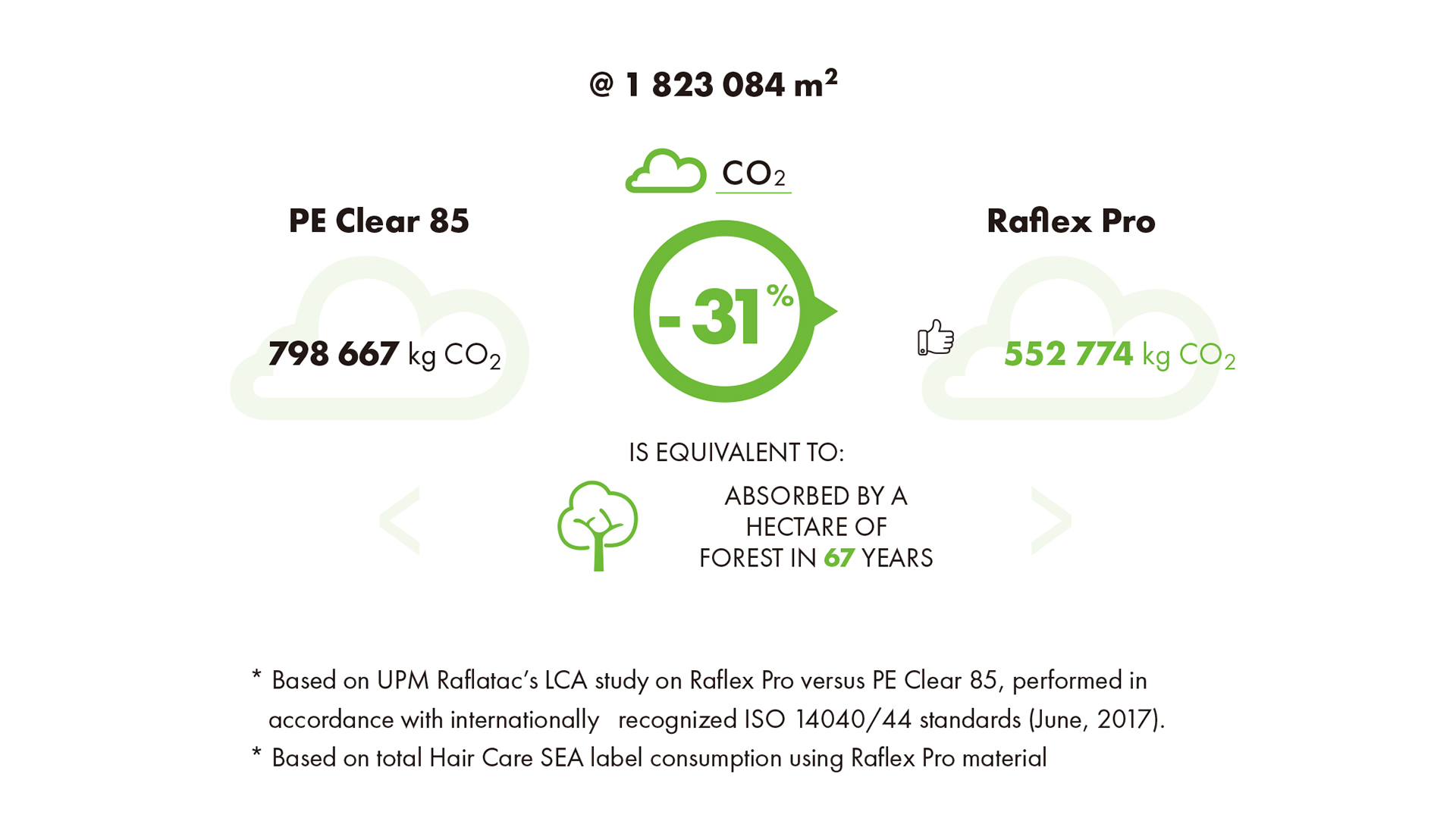 Apart from the environmental benefit, Raflex Pro brings more value to Unilever's bottle converters. The solution increases productivity by having more labels per roll. It means less downtime on roll changes and more time on profitable label conversion and dispensing. Besides, the thinner label material provides notable reductions in energy and water use.
"The switch from PE 85 to Raflex Pro is a good example of an initiative that delivers both less plastic and material cost savings. Therefore, it is a win-win for both the planet and the business," says Rachel Ganzon, Unilever's Regional Packaging Development Support Manager Hair-SEA.
Collaboration leads to success
Switching from one material to the other, especially from a thicker one to the thinner one, can be challenging for converters.
"Many converters were looking into their process capabilities to support this kind of change to thinner films. By working in close collaboration with the converters and UPM Raflatac, we were able to overcome the challenges. UPM Raflatac's team was proactive during our cooperation," says Trung Vo-Kien, Senior Regional Packaging Development Manager Hair-SEA, Unilever. "We are looking to continue our journey together with UPM Raflatac to learn how sustainable label solution can contribute to our goals," he concludes.