TAKEAWAYS
1. Implementing RafCycle™ as a part of their processes has enabled Bläuel to become more consistent with its sustainable values
2. RafCycle program recycles self-adhesive label waste that would otherwise be landfilled
Bläuel is a pioneer in many sectors. It was the first company in Greece to start producing organic olive oil back in the 1980's. Today, the family company employs over 300 small farmers who supply the company with organically produced products that are marketed worldwide.
Recycling with RafCycle
Bläuel has been actively looking for a solution that would expand its sustainability practices and help it to become even more consistent with its values. One of the problems the company has been struggling with, has been the lack of proper recycling processes.
"In Greece, there have not been many processes available for recycling label liner," tells Silvia Lazzari, responsible for marketing at Bläuel Organic Products. "Tons of materials have been dumped in a common waste and we have been trying to find alternative solutions for years."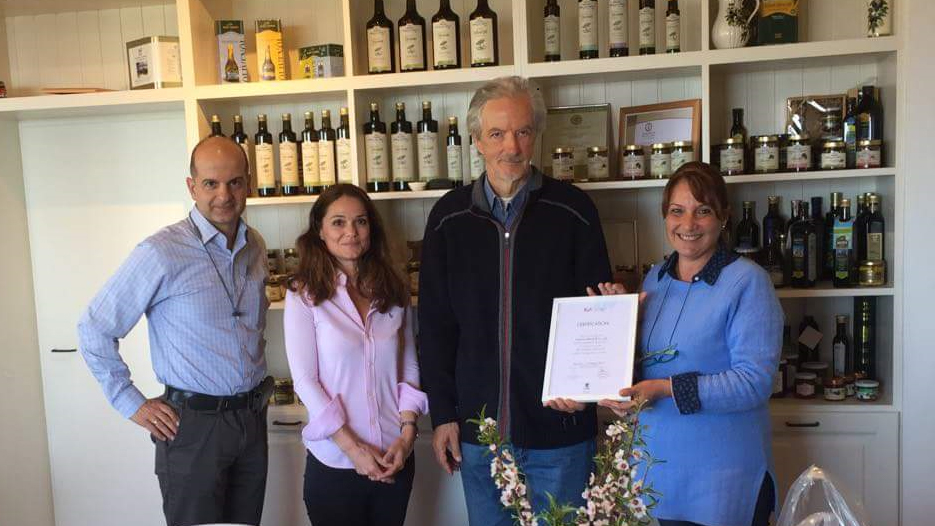 In the picture: Avgerinos Chatzichrisos from Forlabels (left), Despina Daioglou, Fritz Blauel, the owner of Bläuel GreekOrganic Products and Silvia Lazzari (right) holding the RafCycle certificate.
"When I heard about the opportunity of recycling label liners through the cooperation with UPM Raflatac, I presented it to my colleagues and directors and everyone agreed to give a green light to research it further," Lazzari says.
The solution was UPM Raflatac's Rafcycle program.
RafCycle gives new life to self-adhesive label waste that would otherwise be landfilled. UPM Raflatac collects the waste from its RafCycle partners and recycles it into new materials at the UPM Plattling paper mill in Germany.​ This provides numerous benefits to printers, packers, brand-owners, and, of course, the environment.
Sustainability actions are required from everyone
Although RafCycle has over 100 partners globally, it is not yet widely used in Greece. For Bläuel, joining RafCycle has been a good experience. Lazzari encourages also other companies to join RafCycle program.
"We have been pleasantly surprised with the support we have gotten from UPM Raflatac. Without reduction of waste, the planet is not going to survive. We all have to do our absolute best in trying to find the solutions," Lazzari says.
UPM Raflatac aims to find solutions to all companies.
"Size is not a barrier when it comes to taking part in sustainability initiatives – even a small company can do something about sustainability. Taking part in RafCycle is one way to do it," concludes Despina Daioglou, Sales Manager, Greece, UPM Raflatac.